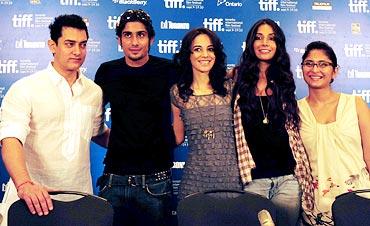 Rediff.com's Arthur J Pais reports from the Toronto International Film Festival.
Is anyone even whispering that Aamir Khan's five-year-old marriage to Kiran Rao has been lacking in love in recent months? And yet Aamir wants everyone to know how (with some help from his cousin Mansoor Khan and his wife Tina) he fell in love with Kiran all over again as he worked with her, as a star and producer, on Dhobi Ghat which marks her debut as a director.
He said so at the film's world premiere at the Toronto International Film Festival last week where at least one reviewer compared her effort to that of master filmmaker Satyajit Ray.
And he reiterated the claim at the press conference in Toronto on Sunday morning. The movie asks indirectly, among other things, the question, Does Love Conquer All? a theme in hundreds of Indian films.
A smart, poignant and heart-tugging movie woven around unfulfilled love, Dhobi Ghat (called Mumbai Diaries at the festival) was not made because Kiran is his wife, Aamir said, confessing that when he heard that she was writing a screenplay, he kept hoping she would not complete it. What if he did not like it, he worried.
'Doesn't sound like a very supportive husband,' he admits in the production notes for the film, 'but I am known to have a strong survival instinct (as a producer).'
When Kiran asked him to read the script, Aamir refused.
Instead, he suggested they go to Coonoor where his cousin Mansoor Khan (who has directed him in two films including Qayamat Se Qayamat Tak which launched Aamir's career) has been living like "a hermit."
Though Mansoor Khan is reluctant to make films (his third film Josh was released nearly a decade ago) and shuns the movie industry, he keeps in touch with Aamir.
Aamir had told Rediff.com over a year ago that he often seeks Mansoor's help in choosing movie projects. "That is why I cajoled and almost forced him to be the executive producer of Taare Zameen Par," Aamir had said, "It was going to be my directorial debut and I wanted Mansoor to be there behind me at every step. Any important decision I have to take in the future regarding the films I am making, I would love to consult him. I have often used him as a shield and I have never regretted doing so."
Aamir was also thinking of numbers, he says. What if Mansoor too did not like the script? "Then we would be two against one (Kiran)," Aamir said at the press conference.
Even with Mansoor around, Aamir says he did not want to read the script. For he wanted to listen to the narration and visualise the story. He also wanted to see how it would affect Mansoor.
When Kiran Rao completed reading the script --- which is in English and Hindi --- Aamir says his eyes welled with tears. Ditto for Mansoor. They fell in love with the characters in the script and the lines Kiran had written for each of them.
It is the story of a reclusive painter (Aamir), a young investment banker woman from America who has a passion for photography (Monica Dogra), and a young dhobi (Prateik) who becomes a link between the two, and a lonely and betrayed young bride (Kirti Malhotra).
Like Kiran Rao, Monica and Kirti are making their debut (in their case as artists) with Dhobi Ghat.
The script would lead to a world-class film, very European in texture, devoid of typical Bollywood. Gritty and atmospheric, often raw in its language, and not afraid to talk about a one-night stand, Dhobi Ghat is also a very moving story of unrequited love.
It has received excellent acclaim in Toronto, with Canada's biggest newspaper The Globe and Mail giving it three stars (out of four), outbeating the stars earned by classic filmmakers like art-house giant Jean-Luc Godard whose newest work Film Socialisme was one of the most eagerly awaited films at TIFF.
The film festival screen over 250 feature films and 50 documentaries from more than 60 countries, and only about 60 films get reviewed. 'Move over Bollywood,' the The Globe and Mail capsule review declared, 'because India is going indie. More precisely, it is showing some early signs of returning to the auteur-driven sensibilities of a director like Satyajit Ray.'
Kiran Rao told Rediff.com that right from the start she wanted to write a story that not only questioned the notion Love Conquers All but also offered insights into migrants in Mumbai and their stories unfolding as they moved from apartment to apartment.
Is it really possible in a country riddled with class and caste prejudice, she mused, for an upper class girl (Dogra) to have a relationship with a boy (Prateik) from an economically weaker background?
The stories of four people adrift in a city grew partly from her own experience in moving from one apartment to another, she added.
Kiran, who has worked as an assistant director on half a dozen films including Lagaan and Swades, writes in the production notes for Dhobi Ghat that every apartment she had moved to in Mumbai 'felt a little warm from the last occupant, leading to the idea that I was in some strange way connected to the people that had lived in the space before me and would thereafter.'
'What if they had left behind something that revealed to me their life and secrets?' she adds. In the film, Aamir's character discovers a disturbing story involving a young migrant in his new apartment thanks to something that had been unwittingly left behind.
Aamir says his admiration for Kiran increased tremendously after reading the script, but it became even more pronounced as she began shooting the film. "She was our leader and we looked up to her at every turn," he declares.
'As a producer and as an actor,' he says in the production notes, 'I feel most safe in her hands. She has clarity, sensitivity and an ability to bring the best out in her team, which makes her a leader I am happy to follow.'
Image: (from left) Amir Khan, Prateik Babbar, Kriti Malhotra, Monica Dogra and Kiran Rao at the 35th Annual Toronto International Film Festival. Photograph: Snaps India