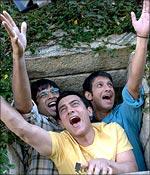 Aamir Khan-starrer 3 Idiots was chosen as The Best Popular Film, as Amitabh Bachchan won The Best Actor award for his role in Paa and Malayalam film Kutti Srank won the award in the Best Feature Film category as 57th National Film Awards were announced in New Delhi on Wednesday. 
The awards, announced at the Shastri Bhawan in the national capital, among other categories included Best National Integration film which went to Delhi 6, award for the Best Debut Director for Sanjay Puran Singh for his film Lahore while the Best Director award went to Rituparno Ghosh for his Bengali film Abhomaan.
Ananya Chatterjee was chosen as the Best Actress for her role in Abhomaan, Well Done Abba was chosen as the Best Social film, Farooq Sheikh was chosen the Best Supporting Actor for his role in Lahore, Best Supporting Actress went to Arundhati Naag for role in Paa, 3 Idiots' Behti Hawa Sa Tha Wo was declared the Best Song and Amit Trivedi was awarded Best Music award for Dev D.