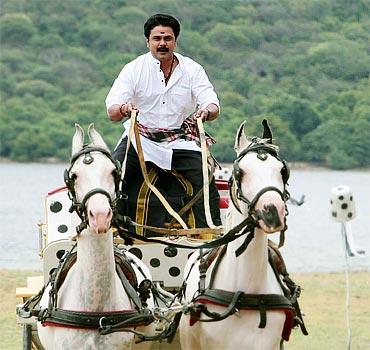 In debutant director Thomson's Malayalam film Karyasthan, Dileep's role is that of a karyasthan, who takes care of the affairs of a large and wealthy joint family.
The family is at loggerheads with another household, who lives in the same neighbourhood.
Veteran actors Madhu and G K Pillai play the patriarchs in each of the family.
Akhila, who became popular as the anchor of a TV reality show in Malayalam, is the heroine.
Scenarist duo Siby K Thomas and Udayakrishnan, who are riding high after the success of Pokkiri Raja, have penned the script.
One of the highlights of the film is a song shot in Kochi featuring most of the TV serial artistes and a few playback singers. The main location is the famous Varikkasseri Mana near Ottappalam.
"Art director Saloo K George designed it the way the story demanded. We are narrating an entertaining story, through the eyes of a karyasthan in a wealthy household," says Thomson.
Karyasthan is produced under the banner of Ann Media by Anto Joseph. P Sukumar is the cinematographer while Berny and Ignatius are the music directors.