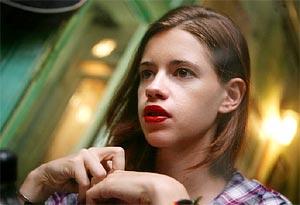 Rediff.com's Arthur J Pais reports from the Toronto International Film Festival.
Anurag Kashyap says he was determined to make That Girl in Yellow Boots his own way, not worrying about if the audiences would find it too shocking or the Censor Board would demand too many cuts.

Many critics and fellow filmmakers consider him to be one of the most fearless writers and directors in India. But Kashyap readily admits he was afraid of one thing. He was scared he might lose his writing partner and the film's lead, Kalki Koechlin.

"Many of the scenes were so intense and dark, we were afraid to discuss how they had come out in the shoot," he says. "We would hardly talk in the car on the way to our home."

"This was worrying me too much as she is also part of my life," Kashyap, best known for his films Dev D and Black Friday continues. He has been living with Kalki for about three and half years. "We could not even go to the same bed all through the time we were shooting." The film was shot in less than four weeks.

When a kissing scene between Kalki and Prashant Prakash (making his debut here) was being rehearsed, the actor was hesitant to kiss.

Don't you know to kiss a woman, Kashyap asked him. Then he realised that Prashant was uncomfortable because of Kalki's relationship with the filmmaker.

"The scene looks good on the screen," the filmmaker says, "but it was not easy to shoot it."

A gritty and pulse-quickening tale of a biracial young woman looking for her missing father in India, Yellow Boots with its gripping narration, plot twists, haunting music, raw language and shocking sex scenes could create a minor sensation. But to the discerning audiences, especially those who have read Jim Thompson, the film offers a special treat. Arguably, the film -- which was premiered at the ongoing Toronto International Film Festival -- it is the best work yet by Kashyap.
The lost-and-found story, a staple of Indian films for decades, gets an unexpected twist in the film, though Kalki and Kashyap say they did not intend their film to subvert the genre.

The film could be released after two or three months in India. "Every time I make a film of this nature, I feel I am challenging the audiences again and again, telling them to grow up, "he says animatedly.

Kashyap says he was relieved that the Censor Board asked for a few changes, especially a scene in which the young protagonist curses a Christian religious figure. "They (the censors) thought the cursing words may upset some people," he says, adding with a chuckle, "I did not object to the demand, as the rest of the film remained intact."

Right at the start of the film, over a dozen people are thanked in the credit titles, the first among them being Ronnie Screwvala of UTV.

"I made this film on my own," Kashyap says with a small laugh. "And that meant, I borrowed money. The first person to lend me money was Ronnie."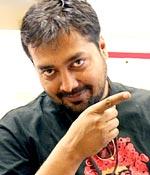 Though UTV has a producing deal with Kashyap, he feels that the public company did not want to be involved with a film that is outrageously frank and deals with a taboo subject (at least in India).

"Ronnie has encouraged me for many years. He asked me at the outset how I was going to raise money for this film," Kashyap recalls. "I said, I will have to borrow." The movie cost about $1 million, a small amount compared to a masala movie featuring a big star. "Ronnie then he could give me a loan." And he did so without any conditions, did not even ask when Kashyap was going to return it.

The film tackles a number of subjects ranging from every day corruption, the way foreigner are treated at the registration office for foreign visiters, and the freedom which sex parlours operate in India.

"Some of my well wishers abroad who have liked this film nevertheless feel that I have held back many things," he says with a rueful smile. "You could have been more hard hitting, they tell me. I tell them I made this film in India. Even then, I
could be lynched for many things that are already in the film."