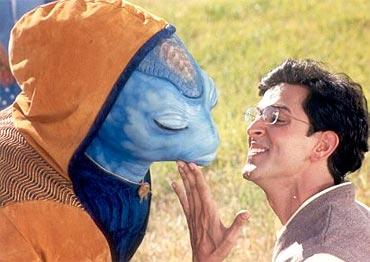 We asked readers to send us Bollywood bloopers that they have spotted.

Reader Sangeetha shares with us a blooper that she spotted in the movie Koi... Mil Gaya. 
Rakesh Roshan explains to his fellow scientists that he is sending sound waves of Om into space to see whether aliens will respond. But sound waves do not travel in a vacuum, only electro-magnetic waves do.
So how did the aliens hear it?
Have you spotted any Bollywood bloopers recently?