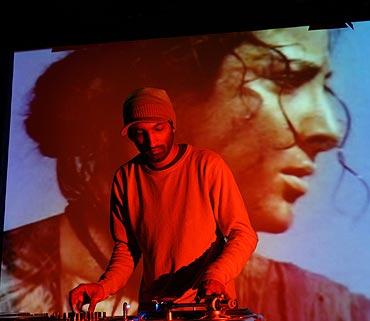 A couple of weeks ago, New Yorkers were treated to images of Nargis, Sunil Dutt and Rajendra Kumar. It was a beautiful summer night with a cool breeze in Brooklyn's Prospect Park. For nearly an hour, over 2,000 people sat mesmerized by the flashing images -- a pared down silent version of Mehboob Khan's Oscar nominated 1957 film Mother India, with live and pre-recorded soundtrack composed by Britain's top turntablist DJ Tigerstyle (Alvin Seechurn).
The project -- Mother India 21st Century Remix or MI21 -- is produced by Kala Phool, a London-based arts organisation, and was presented by Celebrate Brooklyn. In addition to DJ Tigerstyle, the event's creators include the visual editor Josh Form, who edited the film down to an hour, cellist Matt Constantine and drummer David Shaw.
The project is the brain child of Indy Hunjan, founder of Kala Phool. "The concept was to use Mother India to mix art and to reinterpret the story in a condensed way where the audiences could dig into it and have an experience," Hunjan said the day after the presentation. Because of the cost and logistics involved in arranging the event, the Brooklyn presentation was the only US show of MI21.
It was a stunning experience, with the rich texture of Khan's film playing in silent mode -- Radha's (Nargis) and Shambu's (Raaj Kumar) wedding; the birth of their kids Birju (Dutt) and Ramu (Kumar); Shambu's accident and departure; Radha bringing up the kids through floods, poverty and dependence on an evil moneylender; the brothers following the two opposite paths of life; and the eventual tragic decision that Radha is forced to take -- against DJ Tigerstyle's bright and exhilarating soundtrack. MI21 also stripped off the original film's soundtrack and songs composed by Naushad.
"Because there are no dialogues and subtitles, everyone is on the same page," Hunjan said about the show.  "All people in the audience have a similar experience. There are no barriers."
US-born Hunjan, daughter of an Indian father and African mother, remembers watching Mother India as a child. "I remember the resonating feeling of such a powerful story of a woman saving her family and her community," she said. "It was such a far cry from what you see so often in Indian films where women are so sexualised, so demeaned."
At Kala Phool she came up with the concept of a MI21 production, but initially did not know which artist to work with. Then at an event she heard DJ Tigerstyle. The artist had recently composed music for a Japanese project. She had heard his music before, but seeing him live was different.
"Standing in a room with over 1,000 people going insane, I had a moment of clarity," Hunjan said. "I stood watching this man who is like a one-man orchestra. He absolutely commanded his space as a skilled artist. After the show, I refused to let him leave the building until he spoke to me. And he was sold straight away."
It took a year to edit the film, Hunjan said, so that justice could be done to Khan's original story.
"We were very keen for the storyline to play in such a way that you wouldn't miss out on any of the elements," she said. "There were absolute key threads that we followed, which I call the hangers. The hangers had extra meat on the bones that you can embellish with music. The storyline to me was clearly about the political impact, the poverty, lack of education, fighting for one's rights and it also had a very strong feminist approach."
And she wanted to make sure that the visual elements -- Radha's wedding bangles, the bindi on her forehead that her husband wipes off as he leaves her, were all shown. It was equally important for her to retain the scene where Radha brings the villagers together on a field. As the camera pans back, the audience can see them form a map of India on the field.
In 2008, Kala Phool took MI21 on a work-in-progress tour in the United Kingdom to seek audience reactions. "It was a very open process," Hunjan said. "I wanted to hear people's opinions. Our audiences were mixed in culture, demographics and age, with some people who had seen the original film."
The show had its official UK tour last year. Earlier this spring, MI21 toured Sydney and Melbourne. Hunjan has plans to take the project to India, perhaps with the collaboration of the British Council.
But bringing the project with the musicians to the United States was fraught with bureaucratic complications. The artists' visas were delayed and Hunjan could get no response from the US embassy in London. Finally, the Celebrate Brooklyn group placed a call to Senator Chuck Schumer's office. From there a call was placed to the office of Secretary of State Hillary Clinton.
"We found out that our visas were approved at 3 pm on the day before we were flying," Hunjan said. "All thanks to Hillary Clinton. That woman is amazing."
She added that there is a high demand for foreign artists to perform in the US, but opportunities are often missed due to the complicated process, paperwork and the politics of our times.
"I think Brooklyn is very, lucky, in fact, America is very lucky that there are organisations like Celebrate Brooklyn that make it happen for their community," she said. 
In the picture: Mother India plays against DJ Tigerstyle's music