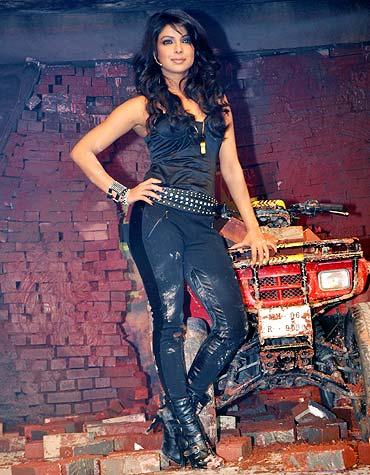 Looks like what Akshay Kumar can do, Priyanka Chopra can do better.

The actress, who is currently hosting the third season of Khatron Ke Khiladi, is becoming a hit with the television audience.

According to Indiantelevision.com, the ratings of show on Colors "opened with a TVR of 5.5 in the Hindi speaking market, making it one of the biggest openings for any celeb-hosted reality show in the last two years."

Which means that whatever Priyanka is doing is working. What's telling is that the third season has surpassed that of the first two seasons hosted by Akshay in the first episode itself.
While the first two seasons recorded a debut ratings of 1.72 TVR and 4.37 TVR respectively, the third season has seen a 26 percent jump over the previous season, taking the overall reach from 18.4 percent last year to 19.2 percent this year.
'After two successful seasons of Fear Factor -- Khatron Ke Khiladi, we are encouraged by the overwhelming viewer response to the third season. The exceptional show rating which is higher than the earlier two seasons indicates that the content and the format have been accepted well by viewers. We have taken the show to the next level in terms of scale, credibility and delivering value to our advertising partners,' the report cited Colors CEO and Viacom18 COO Rajesh Kamat as saying.
Whether it is marketing strategy or the change in khiladis, one thing is for sure: Priyanka rocks!