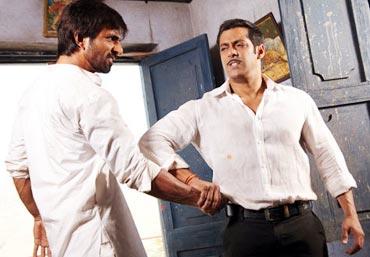 We asked readers to send us bloopers that they have spotted in Hindi films.

Reader Saifan Pashan shares with us a blooper that he spotted in the movie Dabangg.

In the initial fight sequence between Salman Khan and the local goons, a mobile phone rings. Salman starts dancing to its tune, adding awesome comic masala to the fight sequence.

Later, he tells the goon, 'Caller tune achchi hai, mujhe forward karna.'

But Sallubhai forgot that he danced to the ring tone, and not the caller tune. Caller tune is the one which we hear whenever we call a mobile number. We cannot forward that to other people.

The dialogue should have been: 'Ring tone achchi hai, mujhe bhi forward karna.'
Have you spotted any Bollywood bloopers recently?
Tell us about your favourite and funniest! Keep the Bollywood bloopers coming, guys!