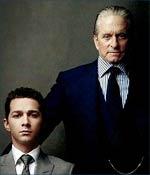 Aseem Chhabra reviews Wall Street: Money Never Sleeps.

What a difference 23 years make. In 1987 when Oliver Stone directed the original Wall Street, his intent was to expose the excesses of the financial sector represented by the likes of his fictional character Gordon Gekko (played with a scheming, conniving charm by Michael Douglas). Gekko was a composite of several Wall Street honchos -- Ivan Boesky, Carl Icahn, Michael Ovitz and Michael Milken.
But even though Stone made Gekko a villain who delivered one of the most quoted Hollywood lines -- "Greed, for lack of a better word, is good" -- the filmmaker's motives somewhat backfired.  Most people and critics ignored Stone's liberal criticism of Wall Street. In fact, Gekko became one of the most popular Hollywood characters. Young people for years were inspired by Gekko's personality (enhanced by Douglas' Oscar winning performance) to work on Wall Street. 

Douglas became identified with Gekko, even though the actor also appeared in several other popular films at the peak of his career, including Fatal Attraction and Basic Instinct -- often playing a sharp no-nonsense type of guy who lands into big trouble because of the wrong kind of women he falls for.

This Friday Stone unveils his new film Wall Street Money Never Sleeps, sequel to the original Wall Street. This time around Stone tries to explain the causes that led to the 2008 economic meltdown. His real villains are not individuals like Gekko – although there is plenty bad that he does in this film, but rather the large investment banking firms that nearly ran the nation's economy to the ground. 

The film has yet to open and already, Wall Street and its supporters are not rooting for Stone. In fact, some elements on Wall Street and its supporters in the media are quite upset with the film. The Economist and The Wall Street Journal have criticized Stone for attacking the top securities firm Goldman Sachs. In an article entitled Goldman Wacked, The Economist noted that the main securities firm in the film -- Churchill Schwatrz has all the shades of Goldman Sachs.

In the film a damning report about Churchill Schwartz by Jake Moore (Shia LaBeouf in a career defining role) starts with these words "The first thing you need to know about Churchill Schwartz is that it's everywhere."  The Economist reminds us that last year Rolling Stone published a highly negative article on Goldman that "opened with precisely those words, the name apart."

Stone, a son of a Wall Street broker (the first Wall Street was dedicated to his father), said the following in a recent interview with The New York Times' financial columnist and Dealbook editor Andrew Ross Sorkin, "It's silly to be simplifying and say Wall Street is evil."  But then he paused and added "Goldman Sachs is evil, maybe."

But the 2008 financial collapse, the federal bailout of the many Wall Street banks and Stone-bashing apart, it is safe to say that Wall Street: Money Never Sleeps is a very entertaining film. In the recent years Stone became an activist filmmaker as he directed documentaries on subjects ranging from Fidel Castro to Hugo Chavez. But Wall Street: Money Never Sleeps -- packed with some of Hollywood hottest young and veteran stars -- LeBeouf, Carey Mulligan, Douglas, Josh Brolin, Susan Sarandon and Frank Langella -- is first of all aimed at entertaining the audience.

Gekko is released from jail in 2001, an almost reformed citizen, but his personal life is a mess. He is very lonely, estranged from his only living child Winnie (Mulligan) -- who works for a major liberal blog. The film then moves to 2008. Gekko has written a book Is Greed Good? in which he suggests that greed is not only good but legal, and that deregulations and the flaws in the financial systems could lead to the collapse of the US economy. Gekko is approached by young Moore who is recovering from the shock of the death of his mentor Louis Zabel (Langella) -- who headed a near defunct Bear Sterns like company. There are signs of economic disaster written all over, but the meat of Stone's story is Moore's love for Winnie and his desire to end the estrangement between the father and daughter.

Also thrown into the mix is the real villain of the film Bretton James (Brolin), a partner at Churchill Schwartz, who was responsible for the collapse of Zabel's company; and Moore's mother Sylvia (Sarandon), a trained nurse who has now over leveraged herself in the real estate business on Long Island.

The film belongs to its lead -- Moore as he wakes up to deceptions by others around him -- from James to even Gekko. It is a coming-of-age-like tale, as the good hearted and good intentioned Moore is committed to an alternative energy program underway in California, but he needs $100 million to keep the research process afloat. Douglas' Gekko is relegated to a strong supporting role.

In 2008 Steven Spielberg cast LeBeouf as a sidekick to Harrison Ford's Indiana Jones in Indiana Jones and the Kingdom of the Crystal Skull. The plan was to make the Indiana Jones series -- starting in 1981 with Raiders of the Lost Ark, appealing to the young twentysomething moviegoers. That is exactly what Stone does by casting Lebeouf in the lead in his new Wall Street film. It is a good strategic move. Douglas' Gekko may have won a lot of fans when the first film opened in 1987, but those fans are now 23 years older. And Hollywood is always seeking the blessing of the young.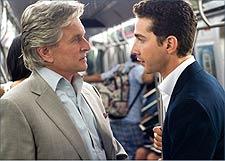 LeBeouf is fantastic as Moore -- cocky, Wall Streetish and yet a rooted character with a solid center. The lovely Oscar nominated Mulligan (also seen recently in Never Let Me Go) is a good match to LeBeouf -- a well defined character and not just a female love interest. Other supporting characters also shine. Sarandon is delightful in the three scenes she appears in. Brolin is creepy and evil. And veteran actor Langella shows all the dark shades of a man whose ship is sinking fast.

Douglas is mostly wonderful as a man remaking himself and also saddened by the loss of his daughter's love. There is a genuine heartfelt moment in the film as Douglas' Gekko begs for forgiveness from Winnie on the steps of New York City's Metropolitan Museum of Art. But the script by Allan Loeb and Stephen Schiff is unclear about how to treat Gekko. The character has reformed in jail, but his motivations and behaviour patterns are uneven. Towards the third act, Gekko's character takes 180 degrees turn. Douglas seems to enjoy playing the switch, but from then on his character makes little sense. And the sudden change in script's tone doesn't help Douglas as an actor.

Stone has mounted a handsome picture -- lavishly shot by Oscar winner Rodrigo Prieto (Brokeback Mountain, Frieda, Broken Embraces and all of Mexican filmmaker Alejandro González Iñárritu's works). Prieto lights up New York City beautifully. And look out for a stunning day scene as James and Moore race their motorcycles through winding rural roads (the scene is perhaps shot somewhere in upstate New York), drenched with brown shades of the fall leaves. Stone works again with his regular editor Julie Monroe, who gives the film a real sense of urgency.

Wall Street: Money Never Sleeps is packed with guest appearances by celebrities. Stone was compelled to cut off a scene with Donald Trump, since he felt the realtor was a distraction in the film. But there many more familiar faces -- including Graydon Carter of Vanity Fair magazine, Warren Buffet, many of the CNBC's anchors, and one real surprise character from the first Wall Street.

Rediff Rating: