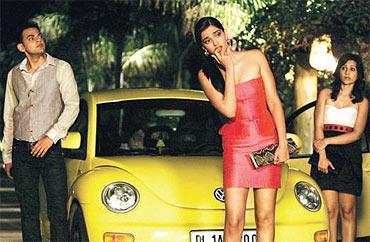 We asked readers to send us bloopers that they have spotted in Hindi films.

Reader Shanmugavel shares with us a blooper that he spotted in the movie Aisha.

In a particular scene, Aisha (Sonam Kapoor) tries to pair up Shefali (Amrita Puri) and Randhir (Cyrus Sahukar).
All of them drive in a yellow Volkswagen Passat in front of a hotel in New Delhi, where they are looking for Pinky (Ira Dubey). 

If you look closely, the car has a left hand drive. 

But that's not allowed in India, is it?


Have you spotted any Bollywood bloopers recently?

Tell us about your favourite and funniest! Keep the Bollywood bloopers coming, guys!