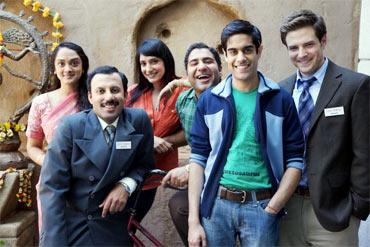 If you watched the pilot of the NBC series Outsourced on Thursday in the US, and felt the show was not funny and the situations not really engaging, then check out the 2006 film of the same name that led to the show.

An engaging culture clash comedy, it focused on an American product salesman Todd Dempsey (Josh Hamilton) reluctantly going to India to train a newly outsourced department.
Its best moments involved Todd's rather American worldviews being challenged by a feisty co-worker (the luminous Ayesha Dharkar).

The small budget film was seen by a few thousand people, even though it got good reviews and major studios were bidding for the right to make a television serial.

'It is a film bursting with affection for its characters and for India,' wrote Roger Ebert in Chicago Sun-Times. 'It never pushes things too far, never stoops to cheap plotting, is about people learning to really see one another. It has a fundamental sweetness and innocence.'

But the TV pilot lacks its sparkle and humanity.
It also takes itself too seriously. For instance, when Todd (Ben Rappaport) makes a crack after seeing a cow outside the office, his Indian assistant says, 'You (Americans) are so wealthy, you practically bathe in meat.' And then he goes onto say (unconvincingly) why the cow is sacred to the Hindus and that the Hindus don't eat beef just the way Muslims and Jews don't eat pork.

The TV pilot also seemed to be a little extra sensitive to what Indians may think of it, USA Today pointed out, not to forget how Americans 'rattled by unemployment and infuriated by overseas job flight' might react. It solves both potential problems, the newspaper argued, 'with humour and an essential sweetness encompassing both cultures.'

The New York Times revealed that in an earlier version of the pilot an Indian office assistant, while discussing his aspirations, tells Todd: 'My dream is not to have to use the toilet after my father.' In the actual version, the man says if he got an promotion he would be able to move out of his parents' house and have a married life.

It is not that the pilot was totally lifeless. There were some funny moments, especially involving the office assistant Rajiv (Rizwan Manji, who is made to overact and yet is funny) hoping to sabotage the tenure of his American boss in the hope he could run the business on his own.

Among the artists who drew attention was Anisha Nagarajan (who made a name for herself in the Broadway musical Bombay Dreams). She plays an overtly shy person, and before you start wondering how she landed the job, Rajiv lets his boss know that she is from a lower caste, meaning she filled a quota.

There is also some fun watching Ben Rappaport explain to the workers American traditions such as mistletoe and how it has become part of Christmas celebrations. 'This is how you celebrate the birthday of the son of your God?' asks the bright Asha who is clearly scandalised. Ayesha's role in the movie now being played by Rebecca Hazlewood.

The pilot received quite a few upbeat reviews. The Hollywood Reporter, in particular, welcomed it. 'It's not cruel,' it wrote. 'It's not culturally insensitive. It's comedy. A workplace comedy and natural office companion.'
The review added: 'Americans know how to laugh at ourselves and that it's OK to laugh at someone else. NBC is plunging headlong into an abyss of risk-reward with the single-camera, laugh-track-free Outsourced. It's still hard to believe that the network took the chance on it; the public should do the same.'