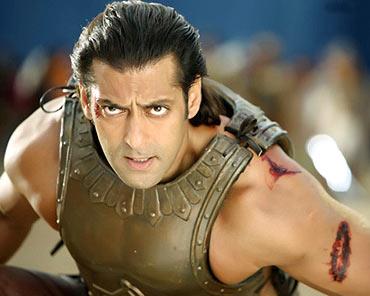 We had asked readers to send us bloopers that they have spotted in Hindi films.

Reader Mohammed Marouf shares with us a blooper that he spotted in the movie Veer.
On his first day of college, Salman Khan aka Veer makes a valiant reply to his racist teacher for his degradation of Indian culture. "Clothes don't make a man, man makes clothes. Something similar was said by your Lord Bernard Shaw," he adds in his speech.

Veer is said to be born in 1862 when George Bernard Shaw (July 26, 1856 -- November 2, 1950) was just six years old.

Veer attends college probably in his 20s. Then the year would be between 1885 and 1887. During this period, Shaw was struggling in London as a writer and none of his works had been published yet.

In fact, Shaw was not even well-known among the English people. He became a famous playwright in the mid-1890s. So how come Veer quotes Shaw long before Shaw himself thought about it?


Also, Veer addresses Shaw as Lord. Shaw was never a Lord; he was born to a grain merchant. Shaw was awarded Knighthood by British Royal in the 1930s -- long after Veer died -- but Shaw refused the offer.
Have you spotted any Bollywood bloopers recently?
Tell us about your favourite and funniest! Keep the Bollywood bloopers coming, guys!