The successive works of a hit-maker are always eagerly looked forward to. Will he be able to re-create the magic, or will the film fall flat on its face?
The expectations are doubled when the maker in question is A R Gandhi Krishna, who delivered the sensitive and intriguing Chellame and trebled when the film is based on renowned Tamil writer Sujatha's classic, Pirivom Santhippom. The movie we are talking about now is, Aascar Film's much expected Anandha Thandavam (Dance of Ecstasy).
Some makers take just a knot and develop a screenplay that has nothing to do with the original  but the director has, thankfully, stuck close to the novel. And therein lies the problem.
When you're shown a young and vulnerable-looking Raghupathy (newbie Siddharth) getting down at Bana Theertham, a rather beautiful untouched reservoir in the Tirunelveli District, where his father Govindarajan (Kitty) is an assistant Engineer, your expectations are roused. Raghu has just returned after a few unsuccessful job interviews when he runs into the mischievous duo of Madhumitha (Tamannaah) and Sudhakar, her brother.
Both love playing pranks on their neighbours and manage to slip a fast one on him after which he discovers that they're the son and daughter of Gopinath, the newly arrived Chief Engineer. His wife loves playing tennis with the local marker (Charlie), and is the typical up-market wife.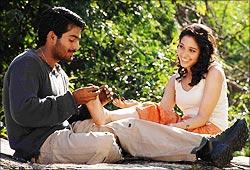 Madhumitha's everything an impressionable young man who's got time on his hands can wish for: She's young, pretty with her alabaster skin and free spirits, with just enough coquetry to egg him on, and within a matter of days, Raghu has fallen in love with her. Her family is equally impressed with his qualifications, and soon, Raghu's life is a picnic - every day's filled with adventures with Madhumitha who seems a child at one moment, and a sly, intelligent woman at another. He's fascinated by her, and she knows it. Her family watch the growing romance with approval, despite Govindarajan's misgivings, and an engagement happens within 15 days.
That's when disaster strikes – in the form of hep, slightly bald but stinking rich Radhakrishnan, who arrives with a bang from the USA and marries Madhumitha, with her full approval. A devastated Raghu tries to kill himself, but life, it seems, has more in store for him in the form of a trip to the US, ostensibly to study. Where he promptly runs into Madhumitha again.
It's a roller-coaster ride for Raghu, who has to deal with an ebullient Madhumitha, a sneering Radhakrishnan, supportive Rathna (Rukmini) and his own awakening love for his ex-lover – leading, of course, to an explosive climax.
What it does on paper in Sujatha's novel doesn't, somehow, happen with the same intensity onscreen. Pirivom Santhippom, when it first appeared, was a tale of the one of the first NRI exodus's to the US, and carried strong characterizations and dialogues that packed a punch. These were people you could find everyday but with emotions that were so clearly etched that they were three-dimensional, touching you in unexpected ways, and throwing open a way of life that was novel and fascinating to readers.
And though A R Gandhi Krishna has tried valiantly to portray today's NRI life and Raghu's fish-out-of-water existence, taking some liberties with the story, the effort falls flat.
One reason is debutant Sidharth. Though he does his best when he's romancing his beloved, and there are sparks during emotional scenes, he seems to miss his cue a few times, making you wonder if someone with acting chops might not have done a better job.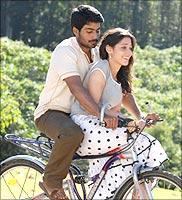 The other is the editing, which goes haywire, missing out links between scenes, jerking from one situation to another and sinking the emotional points in the film.
The scenes in Thirunelveli carry some charm, thanks to Jeeva Sankar's camera, but those in the US have been shot with a lack of finesse, stocked with an amateurishness – especially with the Americans, make you squirm.
There are saving graces though – Tamannaah, who's earned a name for herself as the hottest girl, puts in a very neat performance. Her would-be innocence when she's playing up to Sidharth, and slight cunning when she chooses Radhakrishnan is perfect. She brings Madhumitha to life, an alluring mix of child and woman; irritating, sly, yet arousing your sympathy in the climax. Author-backed roles like these are hard to come by for actresses; she's understood it, and delivered a stellar act.
The others who score are Kitty, who's the concerned father, Krishna, who makes a sudden appearance as the American-mad friend, Charlie, the drunk, yet humane marker and Rukmini herself.
The dialogues, contributed by Sujatha and A R Gandhi Krishna hit the points perfectly except during certain scenes in the NRI Brahmin family where accents don't gel. G V Prakash Kumar's music is adequate and he's done better with the background score.
Anandha Thandavam aims to be an intricate story of three people caught in an eternal triangle. Though its scores in parts for sensitivity, the overall effect is rather lacking in enthusiasm.
Rediff Rating: