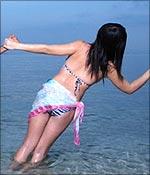 Yet another of those movies that are meant exclusively as popcorn entertainment, Feather Touch Entertainment's Tamil film Malai Malai, directed by A Venkatesh and starring the eternal star-in-waiting, Arun Vijay (incidentally, its a home production), makes no bones about the fact that its meant for fans who aren't discriminating. This time too, they've chosen a template that contains a little bit of humour, romance, and huge doses of action, bashing-goons and eye-popping stunts.
Unlike previous outings, this flick is performs its role as a commercial cocktail better, chiefly because of the director who's an expert in the art -- despite having to make way for the star-trappings of its hero. Which is why you have Vetrivel (styled Ilam Suriyan -- Young Sun, this time), waltz into a crowded bus stand, thrash a gang of muscle-bound men all under the eyes of pretty young thing Anjali (Vedhika) who comes to his home-town Kandhampatti, for a visit to the temple of Pazhani. 
In addition to being a one man killing machine, Vetrivel also cherishes warm affection for his older brother, Pazhanivel (Prabhu) and these make up for some warm moments during the movie. It has been portrayed genuinely, and you can get some laughs out of their digs at each other especially when they try to get Pazhanivel to marry even if it follows in perfectly filmi fashion.
Vetrivel, who works in a transport company tries to woo Anjali with the help of Karuppu (Ganja Karuppu) and after a few wrong impressions, the two naturally fall in love.
Anjali leaves for Chennai, and so does Vetrivel, in search of her. That leads to a whole new scenario, where he joins the Feather Touch Courier company, working with Arundathi (Aarthi who, as usual, is made the butt of fat jokes) and Vimalahasan (Santhanam), who, together, make up the laughter-quotient,. But its time for the story to move beyond the fun and games and into serious stuff. Enter Esakki (Prakash Raj) a rowdy who nurtures political ambitions and of course, Vetri is his nemesis.
Acting wise, Arun Vijay seems to have matured -- he displays an easy charm, excels in the stunt sequences and does humour quite well but it's obvious what his target audience is, and he's satisfied to play just the star.
Vedhika is pretty much the fair-skinned beauty who dances to composer Mani Sharma's lacklustre duets, while Prabhu, as the genial older brother and Prakash Raj, the arch enemy, have set out to do what they do best: supporting roles. Kasturi comes across as loud and rather crass. But as the movie is all about Arun Vijay anyway, everyone else sort of moves out of focus.
Malai Malai is the sort of pot-boiler you can watch when you've got nothing else to do.
Rediff Rating: