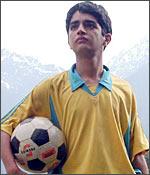 It's a lure tugging straight at the alpha male's heart. You don't have to be a Kashmiri schoolboy to be thrilled at the sight of a discarded pistol (a Beretta, no less) at the side of the road is, and even if you don't do anything much with it, one is tempted to at least, well, strike a couple of action hero poses.
And this is what little Sikandar (Parzaan Dastur) does as well in Piyush Jha's new film. Fixated by the sight of the gun, he dhishkaos with his mouth and draws a bead on trees, merry as a conquering hero until he actually squeezes the trigger and there's a murderous blam, prompting him to flee. But the gun, he keeps.
Sikandar is a simple story, told with unashamed filminess, and is meant to work as a cautionary anti-violence fable. It could have been a good children's film, but a slew of very weak performances and overall pacing flaws drive the movie to instant forgettability, and refuse to let the moral stick.
The basic problem lies in the characters. It's all very well to have Sikandar as a young football enthusiast (a Kaka wannabe, which leads to his uncle dubbing him 'Kashmiri Kaka') but outside of walking around with his sneakers dangling constantly around his neck, the child doesn't act his age at all. His behaviour isn't just naive, it's moronic and even suicidal, and this clearly can't be a teenager. They're too clever to be this vacant.
Also, why is he bullied? Three boys taunt him inexplicably through the film, beating and kicking him and kicking footballs into his head. While the lack of explanation leaves us rubbing our heads quite like Sikandar, it's just a casual bit of bullying. Hardly enough of a force to push a young boy into becoming a terrorist -- especially after it was terrorism that orphaned him.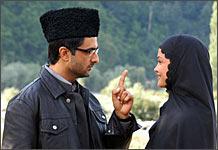 The rest of the characters are just as caricatured: there's Madhavan, playing a Lt Colonel who speaks only in platitudes and makes arbitrary decisions with ridiculous ease; there's Sanjay Suri, playing a politico trading in peace and specialising in sinister entrances; and finally, there's newcomer Arunoday Singh doing a bizarre Napoleon-meets-Sholay's-Thakur act with one guntoting hand perenially under his jacket, playing a terrorist given to cruelty as well as, in a delightful moment of inadvertent hilarity, tears.
It is interesting that the film chooses not to take sides, neither painting the Indian Army as saviors or the terrorists as the only villains, and while showing both sides in unsavoury light is commendable, the lack of detailing is a letdown. The army appears in a police jeep, forever wearing brand sparkling new uniforms. And there is a sequence involving a bomb going off at a mosque that is handled with inexplicable amateurishness.
It doesn't help that the background score is dismal, heading into army-mode as soon as the jeeps come into sight and throwing up faux-namaaz strains as soon as the camera captures a burkha.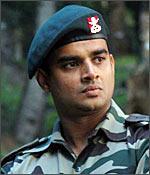 While they are kids, blame must be placed on the young shoulders of Parzan and Ayesha Kapur, the girl who was such a saving grace in Black. Here, Kapur is pretty but constantly simpering and half-giggling, and her dialogue delivery leaves a lot to be desired. Parzan just seems confused most of the time, not being able to pull off the high drama the film demands. They're just kids and have both been better before, so one hopes they'll be better again.
The film's plot is engaging, and most of the twists are genuinely authentic. However, far too much time is spent on building up silent moments where nothing really happens. As a result, when the plot does eventually unfold, it seems rushed. The climax is quite a doozy, the final twist really not clicking into place, being untrue to its characters, and leaving you with far more unanswered questions than answers. And as for the final sequence with all things returning to normal and football as usual, it boggles the mind.
That can be said about all of Sikandar. While the film is pretty by default and has a few pleasant moments, it seems far longer than it is and doesn't quite add up. Clearly Piyush meant well, though, and it is always good to see Bollywood experimenting with children's cinema -- I just wish they wouldn't keep treating kids like kids.
Rediff Rating: