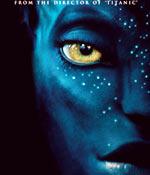 There are people -- film critics, indie filmmakers, and audience members -- who are averse to the idea of technology overshadowing the dramatic content of films. I have often found myself in that camp. 

But I remember being dragged, kicking and screaming, by a friend for a screening of Terminator 2: Judgment Day and being humbled by James Cameron's vision and the thrilling suspenseful chase sequences between the Terminator and T-1000, with his liquid metal form. To say that I was impressed by Cameron as a grand filmmaker is an understatement.

I felt the need to bow before Cameron again after I saw his mega-successful and multiple Oscar winner Titanic, where a sappy romantic story, with two attractive young actors was outweighed by the grand technological cinematic wonder of a sinking ocean liner, the drowning passengers, and frozen survivors clinging on to pieces of ice in the Atlantic Ocean. Was Titanic a great film?  We can continue to debate that issue. But was Titanic a great piece of entertainment? Yes, there is no doubt about that!

And so I went with these thoughts in my mind for a press screening of Cameron's latest Avatar -- reportedly the most expensive movie ever made. The New York Times put the price tag at $230 million -- enough money to fund more than100 small indie films. The New York Post said that Cameron's 3D spectacle cost anywhere between $400 to $500 million. Those are very large numbers, and even if Avatar is a hit, it will take the film a long while to start to show profitability. Hollywood may or may not have a good Christmas.

This much I can say: Avatar is a tremendously entertaining film. It is a huge WOW and an amazing display of high technology, although once again overriding the drama and the script. It is a sensory, emotional feeling -- the experience of being inside and participating in a two and a half hour long video game, with tall blue aliens called the Na'vi, creepy lizard like flying creatures that can be tamed, other scary monsters, lush plant life, big huge 'shock and awe' like war sequences between the natives using bows and arrow and evil Earthlings, motivated by profit, and then also some nice tender romantic moments.

Normally, I am used to rooting for small, heart-wrenching emotional films like Precious, Based on the Novel 'Push' by Saphire and the Coen brothers' latest crazy Jewish comedy A Serious Man. But Avatar has once again compelled me to revise my perspective of what cinema and technology can do.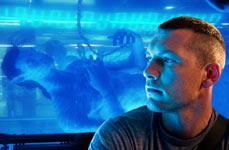 It took Cameron 15 years to make Avatar. He had the vision before Titanic and then realised that the technology to support his ideas did not exist. But the success of Peter Jackson's Lord Of The Rings trilogy and King Kong convinced Cameron that the time was right to create his animated world with characters, performed by actors.

The premise of Avatar is not new. The year is 2154 and we enter the alien world of Na'vi on the moon called Pandora, with Earthlike environment. Scientists and a mercenary army are working to extract a rare mineral call Unobtaimium. Our hero - Jake Scully (played by a lesser known Australian actor Sam Worthington, with no previous box office potential), a paraplegic marine joins the projects after his twin dies. His DNA is matched with the DNA of a Na'vi to create an avatar that can move freely among the natives.

Scully becomes a Na'vi -- an 11 foot tall blue creature with big ears, wide expressive eyes, three fingers and a long tail that emanates energy from orange hair-like fibers. Scully's goal is to understand the Na'vi system and find their weak spot - information that would help the corporation and the mercenaries to wipe out the Na'vis.

But Scully has a change of heart, when he begins to appreciate the gentle nature of the Na'vis, their life in balance with nature, and he falls in love with their princess Neytiri (Zoe Saldana). And so Scully takes action against his own people. And no surprise here -- the good will eventually win against the evil.

We have seen this story narrated before -- the white man as an outsider. It's been done in so many ways - from Witness, The Last Samurai, At Play In The Field Of Lords to The Mission and even Apocalypse Now. The sense of a white man's guilt and then attempts to assist the native has been played before. But not in the form of the 3D magic that Cameron brings to the screen.

When the Oscar nominations are announced next January, Avatar will most likely not be nominated in any acting or the screenplay category. It will, however, be nominated for every technical category possible, and it will deservedly win some (or most) of those trophies. Most people do not focus on the technical awards during the Oscar broadcast. But Avatar proves that special effects wizards are also artists. It is such a great achievement.

Rediff Rating: