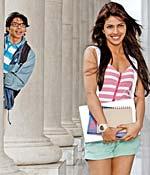 After flexing those unnaturally large muscles (and pout) in Neal 'n' Nikki, wrecking his best friend's wedding in Mere Yaar Ki Shaadi and posing as a tapori sidekick to Abhishek Bachchan in Dhoom capers, Uday Chopra is now trying his hand at a quintessential geek in love with the hottest girl ever in director Jugal Hansraj's Pyaar Impossible.
Like Salman Khan, he too has been bitten by the writing bug, and has scripted the tried and tested plot of this rom-com. While Priyanka Chopra provides the starry attraction, the latest Yashraj offering boasts of music from its current favourites Salim-Sulaiman.
So here's the deal. On the surface, the creations are mostly spunky, sunny and melodic pop. Dig deeper and you'll notice how 'inspired' this album sounds.
Seriously, you might lose your mind trying to remember where you've heard it all before. And then like an idea it strikes, 'Like in a hundred of those fun but forgettable Hollywood campus capers.' From U2, Britney Spears, Shania Twain to Green Day, B*witched and Hilary Duff, the influences are far too obvious and many. Safe to conclude: originality impossible.
Anushka Manchanda opens the album with her cat-on-the-prowl huskiness and Salim Merchant's smooth rendition of Alisha. What would make a great drive song is mostly a snazzy denial negating any possibility of a romantic relationship between the unlikely duo in the near future. The audience, of course, is wise enough to know better. Also aiming to make its presence felt is a nifty remix by Abhijit Vaghani.
Up next follows the effervescent and guitar-friendly title song. For all its likeness to Six Pence None The Richer's hit single, Kiss me, Pyaar Impossible works owing to the ravishing chemistry between Dominique Cerejo and Vishal Dadlani's minty-fresh vocals and Salim-Sulaiman's easy-going arrangement. If this catches your fancy, so will Vaghani's techno-mix of the same.
You and Me opens pretty much like Victoria Beckham's I wish. Again here, Neha Bhasin and Benny Dayal negotiate what Dominque and Vishal established not even a moment ago, the 'pyaar impossible' bit. Only this R& B meets rap sounds a lot more monotonous and meh.
'Chocolate boxes, man on horses. Valentine's day. Party's on Saturday. Mahua Kamat, Anushka Manchanda and Naresh Kamath dole out their own version of a High School Musical with 10 on 10, a number specially designed to highlight the full-marks stature of our leggy leading lady. That explains gibberish like 'Mere jaisa koi kahan. Ten on ten.'
Tossed about in a cheerleader's slogan template, Ek thi ladki unravels the gist of Pyaar Impossible's storyline with an overbearing chorus going badaboombadaboom and oopsiedoodeedoo to contend with about how a goofy geek fell head over heels over the alluring Alisha. If a song had a colour, this would be the mushiest shade of pink. It has Barbie and bubblegum written all over it.
Pyaar Impossible is like a wannabe Hinglish compilation of reworked campus favourites.  And to love it for what it is testing, if not impossible.
Rediff Rating: