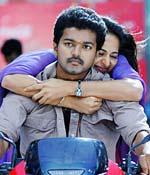 The hero surveys the villain's stronghold with passive, jaded eyes. He's seen all this before, battled a thousand strong-armed goons, beaten down injustice; faced the lion in his own den.
This time is no different: he calmly walks in, crosses his legs in the most nonchalant fashion even as the villain stammers and stutters at his audacity. He pours a drink in a glass, swallows it, and then lights the lighter -- and then blows the alcohol drenched fire in the villain's face. Whereupon the villain falls dead.
These and many other incredible sequences, packaged admirably with romance, humour, suspense, thrills, horrors and skull-smashing action form the backbone of Ilaya Thalapathy Vijay's success-in-the-making, AVM and Sun Pictures humongous Tamil venture, Vettaikkaran (Hunter).
With its title taken from a yesteryear MGR classic of the same name, director B Babusivan (erstwhile assistant to director Dharani, who came up with the dialogues for Kuruvi and subsequently graduated to direction), young commander Vijay prepares to re-assume the mantle of box office baron after a slew of disappointments.
Once the movie begins, though, after the appropriate shrieks and screams of fans, confetti and the blazing name of the star, there's a departure from the original: Vijay doesn't make an appearance until the first few minutes of the film. The reason? There's an idol even he looks up to, in the form of commissioner Devaraj (Sri Hari), who makes short work of all the rowdies in the city with his trusty gun. Before you wonder how on earth there can be two heroes in the film, there arrives the real one.
The director makes no bones about how he's going to showcase his youthful-looking hero, having lived and breathed the air of similar commercial entertainers made on huge budgets.
There's an old man in serious need of medical care, a police force that has nothing better to do than drink beer and drive jeeps, whereupon "Police" Ravi (Vijay) – the nickname is tacked on because he reveres the police force -- makes a dashing appearance, in Thoothukudi. He dives over roofs, somersaults over buildings and practically robs the cop to pay for said injured man's medical treatment. In these attempts, he's aided ably by a whole band of friends led by the comic relief Sugu (Satyan).
The reason for all this good Samaritan work is that Police Ravi worships the ground Devaraj walks on, erects cut-outs for him and has his heart set on becoming a super-cop like him. Which is why he bashes up the bad cops without compunction.
But it's equally important that Police Ravi be identified as a common guy as well. To that effect, he has parents who wring their hands in despair about him, because he's failed in Plus Two four (!) times. Thankfully, he succeeds on the fifth attempt, and makes a plea to study in college in Chennai. Why? Because his idol Devaraj, having failed Plus Two four times himself, apparently migrated to Chennai, drove an auto-rickshaw and became an IPS Officer.
Our hero too, makes the migration and somehow gets to drive an auto-rickshaw as well (obviously, you see the connection). This happens because he manages to support the cause of a newcomer, Uma (Sanchita Padukone, no relation to Deepika) in college and her father gratefully lets him have an auto. He also makes friends with Valaiyapathi (Srinath) a weird-haired guy who disappears after a few scenes.
While not attending classes, Ravi also runs into the statuesque Sushi, aka Susheela (Anushka Shetty) who has no idea why he's following her around but predictably, falls for him soon enough.
But there's no point in being a hunter if you don't hunt the bad guys, and you have more than your fair share here: there's Chella who must have any woman he sets his eyes on, and who promptly eyes Uma, his father Devanayagam (Salim Ghouse) a suave and slick villain the king-maker/politician/tea-stall owner, and their partner in crime, assistant commissioner Kattabomman (Shayaji Shinde).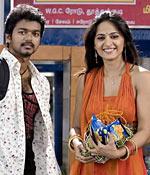 Armed with a band of henna-dyed, broken teeth rowdies, these men contrive to make life hell for Ravi, beating him up, throwing him into waterfalls and generally making life miserable.
But the punch dialogues win again, to the accompaniment of Vijay Antony's stirring background music.
For Vijay and his fans, this movie is tailor-made for the actir who sings, dances (with his son Sanjay, who looks like his miniature), fights (mostly) and does a comedy track that's far more effective than the mandatory one. He's slick, lean and delivers his punches (both in words and fists) like a star, and that's pretty much all there is to it.
Logic and reasoning can take a toss; his fans bring the house down in approval. Anushka, fresh from her success with Arundhathi, has been relegated to pretty bimbette again and appears conveniently during the romantic numbers of which Oru Chinna Thamarai takes the cake. Veterans like Sukumari, Manicka Vinayagam, Delhi Ganesh, Kalairani and others have been ruthlessly sacrificed to blow up the star's image. Sri Hari has nothing to do but growl, while Shayaji Shinde and Manobala capture a few comic moments.
But even here, Salim Ghouse makes an impact as villain incarnate. No matter the end; with his perpetual half-smile, svelte voice and amused expression, you wish he'd been given more screen space and scope. As it is, he manages to hog a good deal of the limelight.
The production team has gone into overdrive to produce a sleek product: Gopinath's camera focuses lovingly on Vijay and suitably glamourizes Anushka, while relegating everything to the background; V T Vijayan's editing is neat while Milan's art-work passes muster. Kanal Kannan, the stunt director in demand has understood his opportunity and given full leash to flying kicks, resounding cracks, crunching bones and Ninja moves.
In the end, though, the effort capsizes because of plot-holes the size of craters, dull dialogues, and logic-less sequences that stun you with their silliness. If you're a Vijay fan, you'll love his crackling style but for the others? Enjoy the unadulterated masala.
Rediff Rating: