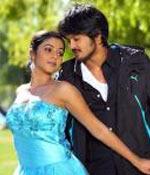 Kalpathi Agoram's Tamil production, Kandhakkottai, starts out promisingly enough -- the guy hates love while the girl is all for it. You're prepared for some good character clashes, development and resolution. But that's where things make an about-turn and go down the drain.
The film is directed by Sakthivel S and stars the boyish Nakul.
Fresh from the success of Kadhalil Vizunthen and Masilamani, Nakul plays Shiva, a peppy guy who lives in the colony of Kandhakkottai (what is it with Nakul and colonies anyway? All his three films have him living in one) with his parents and friends (Santhanam and company). He sees his parents fight over silly things everyday and vows that he'll never support love, no matter what. That's his goal in life: to separate every couple he meets, and he has met some success with that.
Enter, in predictable fashion, Pooja (Poorna, who looks like and copies Asin), a bubbly, romantic enthusiast from Nagercoil. She's all for love and even resorts to running a marathon on traffic-congested roads and braving goons in a Tata Sumo to aid in clandestine marriages. She journeys to Chennai to aid her cousin, who is in love with Shiva's sister.
After a few quarrels, fledgling fights and comical run-ins, the two swiftly fall in love. So quickly do they capture a place in each other's hearts that you're taken aback: if everything's over before the interval, what's going to happen in the rest of the movie?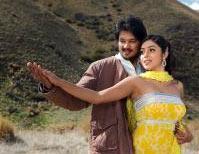 But fear not. All this is in aid of the fact that Nakul, like many other heroes before him, cherishes fond hopes of becoming a superstar. Which means that no matter what the basic crux of the story, the hero always has to walk in slow-motion with trumpets blaring, fly in the air like a Ninja and deliver perfect blows to hundreds of veshti-clad goons who screech with aruvals.
Which is what Shiva does, once he arrives at Nagercoil following his beloved's failure to turn up in Chennai. The Ghilli template has been faithfully followed a rustic villain has a vendetta against Pooja, and it's up to Shiva to save her and the whole of Nagercoil from the evil ones.
Dhina's music is only barely hummeable, except for Eppadi Ennul Kadhal Vandathu. E Krishnasamy's camera does what it's required to. The rest of the cast, except for Santhanam (who delivers a few good lines), are wasted in roles that don't really require their caliber.
Had director Sakthivel kept up with the initial momentum, this one would have turned out to be a light-hearted entertainer. As it is, the movie fizzles out in the second half and destroys whatever good work's been done in the first.
Rediff Rating: