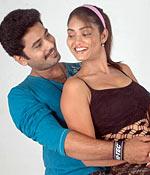 Tamil movies like C J Reddy Enterprises' Balam (Strength), directed by Muralikrishna, make you realise how a film with an experienced cast can go haywire, thanks to a few silly elements that simply take away the joy of story-telling.
That's why you have people like Rahman and Suhasini playing second fiddle to a bunch of inexperienced newbies, which in itself isn't a bad thing -- except for the female lead.
You've seen it all many times: a bunch of young men with all the time in the world is led by the hero Mahesh (debutant Arvind Vinod), a perky youth with no respect for authority. When the jobless gang gets into trouble -- and that it does, as Mahesh has a penchant for running into the wrong situations at the wrong moments -- it is rich friend Balaji's duty to bail him out from under the disapproving eyes of the Assistant Commissioner of Police (Rahman). Mahesh gets more grief from his caring but ineffective sister-in-law (Suhasini) who is at her wit's end about getting him settled in life.
At this point, Divya (Deepa Chari) walks in predictably. And things start going downhill. Not even the twists and turns of her complicated love affair with Mahesh can rescue the film; nor the supposed test of strength that eventually pits Mahesh against the ACP.
Until now, barring a few awkward moments and stale jokes (from Santhanam), Arvind Vinod pretty much manages to salvage an otherwise dull movie. He shows a flair for comedy and acting potential, and you wish that he had a meatier role.
But Deepa Chari (who looks like Sunaina from certain angles) either has no acting chops to speak of or couldn't care less about her job. She manages, very effectively, to ruin what little chemistry is left.
Ganja Karuppu makes infrequent, puzzling appearances as Altap Arumugam, a rejected cop who appears to have no purpose in life or in the movie.
What's even more puzzling is what veteran actors like Rahman and Suhasini are doing in a film where there's no scope to flex even a little finger, let alone acting muscles.
Yugendran's music never manages to touch you, while the production values are strictly ho-hum.
If only director Muralikrishna had actually used his cast in a solid screenplay instead of wasting them all. But you can't have everything, can you?
Rediff Rating: