Pritam's albums should come with a statutory warning: Could be of Korean origins, check before you applaud.
And that's really unfortunate, considering that he does have his 'flashes of brilliance.'  And before some band or composer cries foul over Love Aaj Kal, let's quickly doff our hats to the guy for a score that could be his best in a really, really long time.
The strength of Love Aaj Kal, lies in the unhurried pace and the variety in the choice of genres, arrangement, treatment. More importantly, the music is fun, young and endearing.
Twist, which gives a contemporary spin to the most popular 'snake-music' ever in history (yes, that been melody which makes all Bollywood snakes go weak at the knees...er...sorry tails?), is infused with the right amount of pep by Neeraj Shridhar. It's kitsch cool with bhangra, rap and some wicked vocal effects.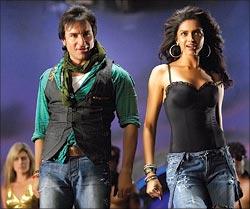 Glide to Ye Dooriyan, which will remind you of Jab We Met. A bittersweet song by Mohit Chauhan (who's best in these rum-soaked numbers), it is signature Pritam in its haunting melody, a smart string section and soaring flute interludes. Particularly liked the use of pauses between the verses and Irshad Kamil's felicity with words. Ye Dooriyan has all the emotional appeal of a road song, Bollywood style.
A hop-skip-and jump-away is Chor Bazari. What makes this an instant pick-me-up is the deliciously languid pace and the way Pritam has laid out the rhythm section. It is also easy to fall for the folksy guitar and vocal hooks, which give this song that edge. Somehow Chor Bzaari conjures visions of a young Dev Anand and Mumtaz playing peekaboo in Kathmandu's heritage chowk. Get the drift?
Kay Kay brings in a lot of feel and style to Main Kya Hun, which is a decent song in itself, but perhaps the weakest link. Unlike Aahun Aahun, which explodes with typical Punjabi joie de vivre up next. But here again, check out the slow-burn pace. Punjabi folk, rock and electronica do the tango in this earthy, snazzy, hip and happy number sung by Neeraj Shridhar.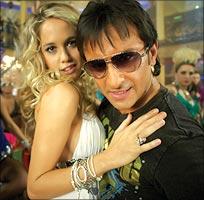 Pritam has been surprising everyone with his ease with Punjabi numbers since Jab We Met and Aahun Aahun shows how he can sex up the simplest of melodies with the right amount of desi ghee.
Rahat Fateh Ali Khan is the perfect choice for the next one, a soulful melody called Aaj Din Chadheya. The guitar-driven arrangement with highlights of accordion and harmonica make this song of loving and longing a very relaxed listen for rain-lashed evenings. 
Sundhi Chauhan's Thoda Thoda Pyaar is a celebration of all things Punjabi with the dhol and the chherkhani and the works. Three fun remixes --Twist, Chor Bazaari and Aahun, conclude the album.      
 
Love Aaj Kal, released alongside Kaminey, is in danger of being completely washed out by it its seemingly stronger opponent. But the score has enough merit to be enjoyed at leisure. Hear it out. 
Rediff Rating: