If you are tired of the regular song-and-dance kind of movies and are in the mood for a real story, Morning Walk might just be the thing for you. But don't go expecting a brilliant execution or a fast-paced, gripping film.
After getting a heart attack during one of his daily morning walks, Joymohan (Anupam Kher) realises he needs to spend more time with his son's family. So he packs his bags and heads to Mumbai to spend a few days in his son's home.
Once there, on another of his daily morning walks, he bumps into Neelima (Sharmila Tagore), someone who had been more than a friend to him many years ago. Now, she has two children of her own.
As the story and drama unfold, we realise that what Joy and Neelima share is more than just a past; it's also part of their present -- one that is going to have a serious bearing on the future of both families.
While the story is a classic family drama, the performances of the supporting actors leave much to be desired.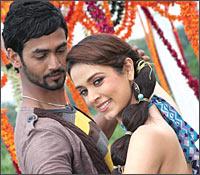 Rajat Kapoor (playing Anupam's son) and Nargis (playing Sharmila Tagore's daughter) don't deliver memorable performances.
Divya Dutta (playing Anupam Kher's daughter-in-law) does not disappoint though one does wish she hadn't over-reacted so much at the end of the movie.
The characters are well-developed but the sub-plots and badly-timed songs interfere with the main story. The film tends to drag.
Yet, Morning Walk provides quite a refreshing change from the masala movies churned out these days. And it actually has a plot!
Rediff Rating: