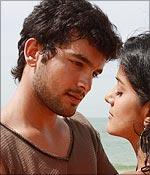 The story of the Kannada film House Full revolves around a series of comical events that follow a small but a serious mistake. The plot may not be logical but is well engaging and tickle your funny bone. House Full is a comedy of errors that works.
Hemanth Hegde, the director is a very good actor who turned television and film director a few years ago. After directing a few nondescript films in Kannada, he moved to Mumbai to make films for Muktha Arts. He made a romantic comedy, Mr Khanna and Ms Iyer but was not successful. Now, he is back in the Kannada film industry with House Full made by a Mumbai corporate House.
Hegde had promised hundred percent comedy but the first half drags a bit. The second half, though takes off and Hegde the actor rises above all to deliver a very good performance. Hegde had to take up acting because one big hero of Kannada films refused his offer to work in a multi-starrer film. House Full clearly proves that Hegde can continue acting and make comedies.
Agreed, the plot is not fresh. The Tamil film Kadala Kadala starring Kamal Hassan-Prabhudeva had a similar plot. Many comedies in Marathi have the same plot. To be fair to Hegde, he has avoided double entendre and created situations which are quite different from what had appeared earlier.
The story of House Full goes like this: Diganth is a rich happy-go-lucky boy who wants to marry Aishu. Meanwhile, a good-for-nothing aspiring film director Parameshi and his wife Neetu promise him a bright future in films. Diganth's grandfather Balwanta Rao from South Africa decides to teach Diganth a lesson and hand over the Bungalow to an orphanage. Diganth lies that he has been married to a girl called Aishu and his future will be at stake. A relieved grandfather wants Aishu's photograph to be sent. However in a comedy of errors, Diganth's assistant Pani Puri sends Neetu's photograph to Balwant instead. The comic situations start there and continue till the end.
Hemanth Hegde steals the show as an actor. He does not overact and is extremely funny. Diganth with his dimpled looks is much better than his comedy role in Masth Maja Maadi. Mumbai girls Vishaka Singh and Gowri are okay -- their confused expressions are effectively shown. It is veteran actor Uncle Lokanath who has really done a great job as Balawanta Rao.
Kiran's music could have been better but the songs are well picturised.
All in all, House Full is an enjoyable fare.
Rediff Rating: