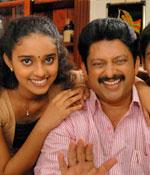 Ninety percent of the family social dramas show the younger generation in a bad light. Very rarely do you find the elders on the wrong side. So, it is refreshing to see a veteran director like Rajasenan treading on this offbeat path in his new Malayalam venture Bharya Onnu Makkal Moonuu which shows the previous generation paying the price for being adamant or stubborn.
The director has cast himself as the protagonist. It tells the story of a person who has married a girl of his own choice defying his father's diktat and shunning his share of family fortune, yet trying hard to keep his spouse and children happy with the meagre salary he earns as a Postmaster.
Chandramohan (Rajasenan) is the man and Lissama (Sithara) is the wife, who is a Christian from a poor family and above all, she has a problem with her heart. Chandramohan's father Sivamohan Thampi (Sivaji Guruvayoor), a high ranking rich Police officer, is against this union. So Chandramohan has no option but to leave his parents. Still he maintains a cordial relationship with his mother and younger sibling Raju (Rahman) and makes it a point that his wife and children keep in touch with them over the phone. His only wish is that one day his father will accept his wife and children.  
To make the lives of his family better, he plans to find a job in the Gulf with the help of his friend GK (Mukesh). Rajasenan does try to keep the story interesting by underscoring it with humour, and showing the troubles of a middle class without giving the audience an opportunity to ponder about it for long.
But the second half has melodrama to make the viewers sentimental.  But somehow it does not jar.
Coming to performances; actor director Rajasenan passes muster convincingly if not in flying colours. The same could be said for the leading lady Sithara who gives a restrained performance. The supporting cast includes Jagathy Sreekumar, Rahman, Sindhu Menon and Sivaji Guruvayoor. Among these, Jagathy excels in the role of a Man Friday that reminds us of his similar performance in Blessy's Thanmathra. Sivaji Guruvayoor goes overboard once in a while. 
Overall, Bharya Onnu Makkal Moonuu has a lot of things going for it despite using some cliched tools of storytelling.  Rajasenan scores once again as a director of family dramas.
Rediff Rating: