Bikes, friendship, college, girls to be wooed, well these are synonymous with today's gen-x boys and you get a taste of all this in the Ramesh Varma's Telugu film
Ride
. With a title like
Ride
, expectations are that the film would be a fast-paced joyous one but director Ramesh Varma dishes out a fare which treads a slightly trodden path laced as it is with the mandatory ingredients like songs, fights and romance. This is also about the attitude of youth today, which here is represented in two ways.
One is through Mahesh (Tanish), who is forced to look for a job after his father retires to support the family comprising of his parents and sisters. Being a responsible son, he discontinues his B.Com and takes up a job under Subba Rao (Brahmanandam) where he has to collect LIC dues. As he needs a bike for this, his mother buys him one.
The other is through Arjun, a cool dude whose passion is bikes. However his father does not buy him one despite Arjun faring well in his studies. Arjun's constantly dreams of buying a bike and his younger brother even advises him to steal one as his dream of getting one from his father will be unfulfilled.
These two stories of families and their travails run in tandem till almost the interval. One even wonders how they are going to be linked together. Just then Mahesh's bike gets stolen and after a day or two he sees Arjun driving it. He chases him and a scuffle ensues. A fight ensues on another day too. Mahesh later tells Arjun that he is desperate for a bike as his family's sustenance depends on it. Mahesh steals the bike from Arjun's house and Arjun is branded as the thief by his father too. Interestingly the bike returned by Arjun after he wins a race (nobody knows who stole and sold it). In the course of events Arjun and Mahesh later bond and a deep friendship develops with both wanting to get a bike for each other.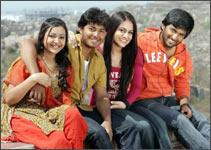 In between the bike tale is the love element. Arjun falls for Pooja (Aksha), while Mahesh's love interest is Rani (Shwetha Basu Prasad). But there cannot be a story without a villain. So we have Pooja's brother who wants to marry Rani (who spurns him) and nurses a grudge against both Arjun and Mahesh.
The film does not pick up till almost the interval. It's only then that the two stories of Mahesh and Arjun which run parallel are entwined. There are far too many songs.
An attempt is made to introduce the different attitudes of today's youth -- of course in the film one can only skim the surface. Director Ramesh Varma tries introducing a slice of life especially the youth-centric lifestyle -- here it's the middleclass. At one point it seems as though the bike occupies centrestage in the whole film -- at least in Mahesh' case it makes sense but not so in Arjun's. Just imagine the fight sequences on account of the bike!
Also one is perplexed as to why Mahesh initially keeps quiet and does not fight about his bike. That bit of his characterisation is a little surprising. At some places, the script is half baked.
Nani plays the smart guy with panache. He is effortless as Arjun. Tanish is apt as the responsible guy. Shwetha Basu Prasad undergoes a glam makeover though she's better off playing character roles. Aksha is just about okay.
Hemchandra's music, though nothing to rave about, is in tune with the proceedings in the film. The songs are for a change shot in Hyderabad and in studios. Marthand Venkatesh's editing is fairly crisp.
Catch this Ride only if you have nothing else to do.
Rediff Rating: