Come on, you can't really expect to discuss
Kal Kissne Dekha
as if it was an actual film, can you? Please.
This is nothing but showreel in cinema's clothing, a heavily-budgeted demo film to someday take as an audition tape to real filmmakers. That is the only way to explain how it introduces us to the affectedly, moronically 'nice' Jackky Bhagnani, and goes on to show us how he can dance, fight, ride bikes and, a staple for any wannabe star, bask in sunlight draped in cardigans with his arms raised a la Shah Rukh Khan.
There's also a girl, Vaishali Desai, whose showreel is intended to net her a shampoo commercial. This would be the only plausible reason for the way she presumably heads to a beauty salon before college, a new hairdo every single morning. Wow. She also tries -- but only the littlest possible extent -- to actually have something similar to what is called a character graph, which means she goes from being snooty to chirpy to scared as the 'film' carries on.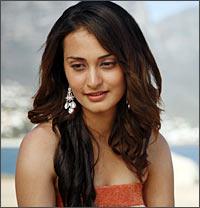 Don't get me wrong, I have nothing against Jackky or Vaishali, who may well be pleasant enough kids on their ownsome. It's just that they, the poor little rich darlings, happen to have been born into film families, which these days means that -- after daddy buys them a sportscar and a horse and holidays around the world -- he must also buy them a pretty little launch vehicle, hoardings with their faces on it and a cartload of hype. It's unfair to the kids, who, based on what has released in theatres today, clearly have no business being lead actors of a movie. Forgive them, for they know not what they do.
KKD is about a kid who can look into the future, and about all the movies Jackky presumably likes, chief among them Main Hoon Na. Along the way, the wannabe star-launch tragically impacts a wasted Ritesh Deshmukh and Rahul Dev, a pretty decent baddie who by now must be tired of soothsaying heroes. And then there's Rishi Kapoor, who actually lets the mask slip and grins during the climax, knowing that this is one of the most embarrassing projects he's been in for a while.
Kal Kissne Dekha is one of those films that won't suffer at all from bad word of mouth. Those who've watched it aren't likely to admit it in public, is all.
Rediff Rating: