In 99, the first motion picture released by new production outfit People Pictures, the plot revolves around a duo of small-time crooks getting into more trouble than they should be able to handle. This is supposed to be a crime caper, a madcap comedy, a David-versus-Goliath routine and life-as-a-cricket-innings metaphor all rolled into one.
The big conceit of the film, as narrated by Sachin (Kunal Khemu), one of the two small-time crooks, is that there are several people hanging around on 99, waiting to complete the metaphorical century and thereby achieve the success that has always eluded them.
It is a clever enough idea and while it must have sounded pretty exciting when the film was pitched to the powers-that-be, many a slip exists between elevator pitch and final cut.
The film opens with Sachin and his mate Zaramud (Cyrus Broacha) on the run from some cops who have cottoned on to a crooked scheme the 'lovable' lads had hatched to duplicate people's cellular SIM cards and sell them to unscrupulous buyers who wanted the convenience of cellular connections without the attendant cost of astronomical bills.
The boys attempt their escape in a stolen car that happens to belong to AGM (Mahesh Manjrekar), a local goon much higher up the crooked pecking order than Sachin and Zaramud. Needless to say, the bumbling Zaramud crashes the car and lands both of them in AGM's debt.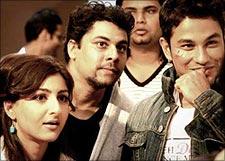 All of this happens in the first half hour of the film, along with our introduction to Delhi-based Rahul (Boman Irani), a man who seeks a set of personally-defined signs before he bets money on the outcome of cricket games. He is introduced to AGM by Kuber (Amit Mistry) a Delhi-based fixer who stomps his yard with a tall bruiser named Dimple (yeah Dimple is a guy) and provides the film with its funniest moments. Needless to say Rahul bets on the wrong team, owes AGM a lot of money and returns to Delhi with more debt than he has any realistic hope of repaying.
Irritated with constantly having to deal with Rahul's avoidance long distance, AGM sends Sachin and Zaramud to Delhi to recover their money, and that is where the real film begins. In Delhi Sachin encounters Pooja (Soha Ali Khan) -- a hip young employee at the five-star hotel he decides to stay in -- and becomes part of a sequence of crazy shenanigans that separate our man from his 'century'. That their adventures are related to a certain real-life event from the sport that is his favourite metaphor helps place the film within a larger context.
Of the performances Kunal Khemu is better than the sum of (most of) the parts he is saddled with. In a world where stars seem to be christened merely by the accident of their birth it appears that Mr Khemu faces a daunting task finding roles worthy of his capabilities, and it is to his credit that he does well with what little he is given.
The star of this show however is Amit Mistry, whose slight build and Falguni Pathak haircut render his Kuber a simultaneously funny and dangerous creature. He features in every one of the film's laugh-out-loud scenes and it remains to be seen what this capable actor can do with his future opportunities.
The rest of the cast seems to have been satisfied with staying within the boundaries of whatever cliche was defined as their character arc so that is all that needs to be said about them.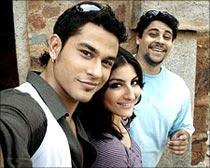 99 is not a bad film, but it is not a good film either. Like 13B before it (different genres, similar problems), this movie delivers on its promise in the climax. If respected screenwriters and directors worldwide are to be believed, audiences will forgive anything if they are satisfied with the finale of a film. If that adage holds true, the director duo of Raj Nidimoru and Krishna DK (the story and screenplay is credited to Sita Menon as well as the directors) have done their job and should be home free with a 'hit' under their belt. That being said, this movie suffers from many signs of 'first film' syndrome even though it isn't the duo's directorial debut.
Entire scenes bear no relationship to the overall story and while it is clear that the running time is padded, it is unclear why. The editing leaves a lot to be desired and the picture has a disconcerting way of changing hues and shades from shot to shot that brings back flashbacks of bygone years when sequences would suddenly be interrupted by footage that looked like it hadn't even been shot in the same decade, leave alone by the same camera operator.
Ms Khan's complexion suffers most visibly from whatever process was used to 'sex up' the film visually, making her parts well nigh unwatchable. One wonders about what combination of chance and circumstance are really at play in filmmaking if cinematographer Rajeev Ravi is credited with the stunning imagery of Dev D as well as the pedestrian work in 99.
The dialogues in this movie are credited to three people, including Rediff's own Raja Sen (the others being Chintan Gandhi and Sita Menon), and watching an effort like 99 makes one realise that great dialogues, like exceptional jokes, are made as much by their delivery and timing as their content. It is difficult to recall if there were any memorable lines in 99, perhaps because the delivery of so many of them was so unmemorable.
All told, 99 rates a solid B+ for effort and a C for actual delivery -- or in our star-studded vernacular, two-and-a-half of those five pointed little fellas. But really, if you're in the mood this weekend, what else are you going to watch at your neighbourhood multiplex?
Rediff Rating: