I have a confession to make as a film journalist. I am a real sucker for movie scenes in which actors are running from a situation and land straight into a wall, a pole or any other man made structure. Naturally such collusion would be very painful, but I find the humour in it irresistible. There is one such moment in Cameron Crowe's brilliant Almost Famous where a clueless Fairuza Balk is running after a bus carrying Patrick Fugit and she slams straight into a wall. It is a painful and yet hilarious moment, and just for that (well, also for a number of other reasons) I can watch Almost Famous any number of times.
I had the same sensation of a guilty pleasure when I watched the preview of Krishna D K's and Raj Nidimoru's 99. Towards the end of the preview the overweight Cyrus Broacha's Zaramud, runs straight into an electric pole. I replayed the preview on my laptop, laughing in my living room in the middle of the night. Watching the preview I had a sense I would enjoy the film.
But still I was truly surprised as I attended the press screening of the film last week at an East Side theatre in Manhattan. The two NRI filmmakers, who earlier directed a charming Indian American film Flavors, and last year's original and also hilarious short Shor, have made a very likeable film about bumbling criminals and sidekicks, who get involved in convoluted plans to make money and cheat each other.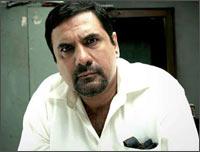 I am not giving away the film by letting the readers know that there is another similar painful moment when Kunal Khemu's Sachin smashes the head of a rude hotel guest on a reception counter. The moment in the scene happens so unexpectedly that viewers are bound to laugh by the shock of it. By the end of the film there are so many other smashing and hitting scenes. Bad guys beat up more bad guys and we keep on laughing. The film's violence is one of its thoroughly enjoyable charms.
99 is a very funny film. It is so funny that at moments you will be in pain laughing-out-loud.
The plot of the film is set in 1999 and then the beginning of the new millennium. Its characters are people stuck at the number 99, getting close to reaching the top, but never making the century. The film is replete with cricket metaphors as it reaches its climactic moment that deals with the match fixing scandal in 2000. As the film's tag line suggests -- it is based on part facts, part fiction, but it is pure fun.
The script by Nidimoru, DK and the former rediff.com film editor, Sita Menon is inspired by the American indie crime-comedies. The New York Times used the word 'hipster' do describe the film's cool factor.
At times 99 is a clever take on Mumbaikars' perceptions of Delhi. The Delhi of today is an unlikely place for Bollywood's crime thrillers, but now thanks to the recent indie films (especially Dibakar Banerjee's two marvelous films with exclamation points ridden titles -- Khosla Ka Ghosla! and Oye Lucky! Lucky Oye!) India's capital is finally getting its well deserved respect. Delhi and its citizens should feel honoured that more and more filmmakers from Bollywood are intrigued by its over-the-top, Punjabi influenced, unique culture. But despite all the jokes in 99 at the expense Delhi, film presents the city with a loving eye.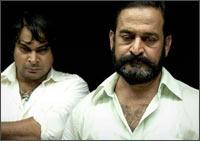 Another comic thread in 99 relates to phones -- land lines and cell phones. There are a series of continuous jokes as several conversations happen between characters either using landlines or cell phones. There are so many cell phone related jokes -- characters going 'hello,' 'hello,' 'hello,' cutting conversations and then calling back, and often feeling compelled to speak in English. Somehow the relatively new technology (remember we are in 1999 and 2000), makes even the least educated and unworldly characters break into uncomfortable, yet lengthy conversations in English. Until the end the cell phone humour plays out well, never appearing to be stale.
More than the script, 99 works because of its dialogues -- the work of Menon, Chintan Gandhi and rediff.com film critic Raja Sen. And to complement the crispness of the dialogues are several of the film's talented actors -- the always brilliant Boman Irani, who in these times has to be greatest gift to India's Hindi language cinema; Mahesh Manjrekar, who is unrecognisable as a Mumbai mob leader with the initials AGM; Khemu and Broacha -- best buddies who dream of breaking the curse of being stuck at 99; and especially the film's real find -- Amit Mistry, as the Delhi based petty criminal Khuber. Khuber is small built man who finds his courage with his sharp tongue and his slow-minded henchman given the most unlikely name Dimple. But no surprise here either. The Punjabis of Delhi have a special tradition of naming their sons -- Lucky, Bitu, Goldie, Honey and even Dimple.
One actor who seems lost among all this talent is Soha Ali Khan. There are too many sparkling faces surrounding her and the script gives her no special reasons to shine. But no worries about that.
99's plotlines and the trail of money may get confusing. And I am not even sure if everything is neatly tied up in the end. This much I can assure viewers -- you will walk out of the theatre laughing and entertained. And eventually that is the main reason why we all go to the movies.
Rediff Rating: