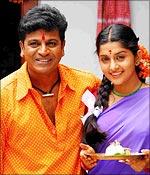 OM Sai Prakash's Kannada film Devaru Kotta Thangi is nothing but a rehash of his earlier films. The only thing that is new in the story which is a Dutch fable about a small boy saving his village from impending disaster.
The essence of the Kannada folklore Keregehaara where an expectant mother sacrifices her life to save the village from being marooned has also been used in the climax sequence. .
Saigaru has specialized in making tearjerker dramas in the past and some of them are hugely successful, like Thavarige Baa Thangi and Anna Thangi. The success of these two films have made Sai Prakash to repeat the same formula in all his films!
In that way what separates Devaru Kotta Thangi from his other movies is his effective use of high voltage technology. Otherwise the film remains the same old cliched formula.
The story goes like this: Shivu, who is attached to his younger sister Lakshmi, works as a labourer in a rich man's house. Shivu loves Gowri  but is agreeable to marry her only after Lakshmi gets married.
Meanwhile, Lakshmi saves the rich man's son and gets married to him later. This marriage is much liked by the elders in the family but is resented by the sons and the daughters-in-law who then hatch a plan to discredit Shivu and his sister. They even plan to kill Lakshmi who is expecting a baby. What happens next make up the rest of the movie.
The first half of the film almost looks like a docudrama of the well known festivals like Nagarapanchami, Bheemana Amavasye and Ugadi.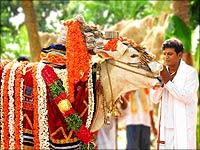 Another disturbing point is Sai Prakash's efforts to propagate regressive ideas through the film like the rich man's third son ties the Mangalasoothra on Meera Jasmine without seeking her permission or that of her brother. Does Sai Prakash think that women have little choice about marriage?
The positive elements are the graphics especially the flood scene. The climax song sequence and the festivities also stand out.
Shivaraj Kumar and Meera Jasmine have shown good chemistry on screen as a loving brother and sister. Both have tried to salvage this film by their genuine performances. All the other artists have carried off their respective roles with the same elan they had showed in several previous films of Sai Prakash.
Giri's camera work is another saving grace. Hamsalekha's music and lyrics suit the mood of the film.
The movie could have been better but for the cliched formulaic story, regressive posturing and dragging narration.
Rediff Rating: