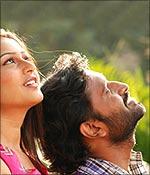 Movies about cinema are few and far between -- it's a popular superstition that they never fare well.
However, it's the time for myths to be broken, and Raaptor Media Film's Mathiya Chennai (Central Chennai) is one of these, detailing the travails of an assistant director as he makes his way towards success.
With a group of lyricists like Vaali, Pazhani Bharathi, Muthulingam, Na Muthukumar and Mu Mehta penning the words and maestro Ilayaraja scoring the music, here's a look at what the Tamil album has to offer.
The maestro's voice rises in mournful lament in Ezhaikkintha Ulagam and no matter that you've heard this particular refrain in other albums like Pithamagan, it still manages to make you get involved in the song. The number itself possesses simplistic lyrics -- a diatribe against the misfortunes that attack poverty, and follow a set pattern. The instrumental arrangement in the second segment is rather heart-warming, as also the chorus, even if you're reminded of that other classic, Amma, Enthan Aaruyire.
En Da Dei begins in colloquial fashion, with the players carrying on a conversation about getting somewhere in life, with startling resemblances to Virumandi's Kombula Poova Suthi. Sung by Rahul Nambiyar, Vijay Yesudas and Tippu, this number is all about achieving the impossible, added to by a gaggle of female voices, all clamouring for attention. The lyrics are fashioned in an enthusiastic manner as well: all about dreaming big dreams and catching falling stars when you can. It's not particularly new -- the score fits into mandatory patterns and heard-before effects.
A peppy collage of instruments begins Ilavayasu Pasanga, sung by the inveterate trio as the previous number, and it looks like the composer has turned to his own eighties compositions; maybe he's trying to bring the trend back. It brings back memories of numbers like April Madathil, when you had a group of baggy panted hero wannabes singing about how young girls should behave. If you can ignore the terribly cliched lyrics, this song, while not brilliant, does have a nostalgic effect.
Beginning in typically dappankuthu fashion, Sullikkuppam Ganapathi is exactly what it seems -- sung by the trio as before, it's all about paying obeisance to the god who makes all things possible. The number's accompanied liberally by whistles, and the fond hope that the protagonist succeed in his dreams, namely cinema. The pluses are its swift pace and colloquialisms -- but you've heard tons of numbers like these before.
Sadhana Sargam begins Un Vaazhve Oru Kathaiyakalam in her characteristically sweet voice -- pity that the lyrics sound so very amateurish, considering the wealth of writing talent that's come together for the album. The tune tries valiantly to shore up the weak words and succeeds to some extent, especially in the interludes that remind you of the disco-esque music of the eighties. But there's only so much music can do for boring platitudes and pep-talk that would suit a discourse, rather than verse.
Unnai Patri Sonnal, sung by Rita, is a pleasant number, romantic, without great aspirations to brilliance. Its mildness is a point in its favour but it doesn't really go beyond that. If you're a fan of the maestro's classic style, then this one has appeal.
In fact, that's something that's valid for the whole album -- in many ways, its trademark Ilayaraja of olden times, minus the musical feats that some of his classic usually contain. Perhaps that might be a direct result of the project itself; this collection works best if you're a diehard fan.
Rediff Rating: