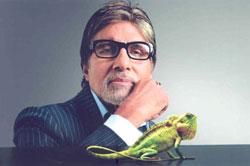 Television's most popular reality show is back in its third season. Bigg Boss Season 3 or Tritiya as Amitabh Bachchan kept calling it, took off on Sunday night with characteristic drama and some surprises.
 
Bachchan slipped into his role of anchor and pop philosopher with consummate ease, and the promos of the star looked quite stylish indeed. He also seemed to have done his homework well, pulling out all the stops to woo the fans of the reality show.
 
He spoke in chaste Hindi, quoted from his father's poetry, interacted with the families of the contestants, accepted the effusive show of affection and adulation from each and every member, flirted lightly, made witty remarks and pulled a few fast ones as well on the unsuspecting. It should be a treat to watch him in the forthcoming episodes.
 
The final 13 contestants of this season were unveiled in the first, marathon episode. Out-of-luck music director and reality TV regular Ismail Darbar, internet star Sherlyn Chopra, famous for her "I want to die in a bikini" quotes, ex-Miss India and now glamorous reel mom Poonam Dhillon, reality TV -find, comedian  Raju Srivastav, baby-faced muscleman and now hero's sidekick Vindu Dara Singh, self-styled actor-director-writer of 'patriotic' films Kamal R K aka KRK, joined-at-the hips TV actors and dancers Tanaz and Bakhtiyar Irani, ex-model and Khatron ke Khiladi veteran Aditi Govitrikar, flop starlet Shamita, better known as Shilpa Shetty's little sister, Salman Khan's German co-star from the long-forgotten Marigold  Claudia Ciesla, ostensibly effeminate designer Rohit Verma flamboyantly dressed in a flowing gown, thick eye-lashes and lipstick, and finally, Jaya Sawant, whose daughter got engaged on reality TV. No points for guessing that one.
 
Besides including a married couple and a designer in drag, the other surprises were a 'jail' for punishing errant housemates, and a chance for you to be inside the Bigg Boss house in the forthcoming episodes as the 14th member.
We don't know if the last move was pre-planned or a hasty cover-up for a negotiation that fell through. In fact, according to some reports, the channel had sent a chartered flight for Sidhu to be on the show, but he backed out at the last moment.      
 
It is quite an entertaining bunch if you look closely. In the introductory episode itself, some of the inmates wasted no time in establishing their intent.
KRK began making pinching comments about some of the clothes the women were wearing, Vindu Dara Singh seemed keen to be this season's Rahul Mahajan, by generally looking affable and enthusiastic, and greeting everyone by their first names. Ismail Darbar kept walking around darkly, quietly as if deeply scrutinising everything and everyone, Sherlyn Chopra made a big deal about untying her choli, almost plastering herself to the camera. And finally Rohit Verma, called himself a "Hiroshima Nagasaki bomb" and asked the inmates of they wanted him to use the men's or the women's bedroom. 
 
Things can only get delightfully murkier from here.
 
The inclusion of Jaya Sawant could only mean two things. Either another last-minute negotiation fell through and no one else was willing to step in, or it is just a ploy to get even with rival channel NDTV Imagine which hosted Rakhi ka Swayamvar recently, and soon Rahul Mahajan's Swayamvar. Mahajan as we know, was until now a Colors' protege.
 
Jaya Sawant was made to weep and wail over her daughter's photographs from the reality show, and seek justice for not having been invited by the 'channel' to her daughter's big event.
"My own deserted me, and you have so graciously welcomed me," she cried into the camera.  Poor woman has never been on stage, faced the world outside, stood trembling before Bachchan, tongue-tied.
Things don't look any better inside the house either, and she does look horribly out of place with her obvious lack of social skills.  With such high-pitched melodrama Colors would make Ekta Kapoor very proud indeed.
 
Other than the repeated Tritiya, Bachchan's KBC hangover continued with, "Lock kiya jai!" 
Moreover, no matter what the question, each and every housemate started with, "Sir main ek baat kehna chahta hun..." and launched a series of Bachchan memories and anecdotes. The star did manage to smile graciously through them all, but it was quite a tedious watch. Also the audio quality on the stage was shockingly poor.
 
Nevertheless, Bigg Boss Tritiya, looks all set to hog your bandwidth in the weeks to come. What with Bachchan's engaging and witty lines, the juicy bunch of contestants and the guilty pleasure of being a voyeur.