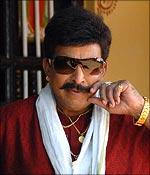 Dr Vishnuvardhan's much awaited Kannada film Bellary Naga is a breezy entertainer with less of story and more of entertaining values.
The film has all commercial ingredients to make it a hit with his fans and the masses. Dinesh Baboo, who is quite famous for making family-oriented comedies, has made a full length entertainer with some sentiments too.
The film moves at such a brisk pace that there is no room for analyzing the illogicalities. 
Dr Vishnuvardhan has given a splendid performance in the title role. His dialogue delivery in the Bellary and Northern Karnataka accent will appeal to people from that region. Dialogues like "Reddy Anna, Nandoo ondhu lekka chuktha aagbekaagadha, hoo maro kade meenu maarthaara, nam ballary kade hasa vyavaara hinge maadodhu" will be a sure hit with the audience. And the way he laughs at the end of each sentence is really superb.
The story goes like this: Naga, a buffalo dealer left his home for Bellary when he was a young boy. His stepfather Vishwanatha Gowda is worried that his son Raju and daughter will not take care of his estate. So he leaves a will that makes his second wife's son Naga in charge of his estate for the next 25 years. An enraged Raja wants to kill Naga and seeks the help of another notorious rowdy Reddy. What happens next forms the rest of the story.
It is certainly one of the best performances from Vishnuvardhan as Naga. Another classic performance comes from Rajesh in a negative role. Chithra Shenoy scores well in the role of the mother. Shobharaj, Avinash, Ramesh Bhat, Bank Suresh and Karibasavayya have all done a good job too.
L N Shashtri's composition of the hip hop song Jagwaare Jaagwaare Jaga and Hait Lagori are good. His background music too is plus point. As always, director Baboo ensures very good technical work.
All in all Bellary Naga is a breezy and enjoyable entertainer.
Rediff Rating: