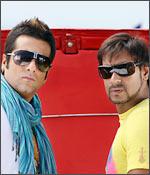 In All The Best, Mugdha Godse's character is shown to be rather credulous. She believes turning the phone in the north-west direction will bring good news or wearing a particular stone will bring her beau good fortune. What follows subsequently is a series of comic catastrophe.

Producer Ajay Devgan ditched the 'a' in his surname endorsing the same school of thought. What follows really is a mostly loud comedy with stale humour and sloppy gags.
Twice in the film, Devgn and Fardeen Khan are shown watching a classic scene from Hrishikesh Mukherjee's wit-laced Golmaal and Chupke Chupke. (Note the complete absence of emotion on their countenance on what would otherwise evoke a wide, happy grin.)
If only director Rohit Shetty had imbibed the well-timed cues and unbeatable camaraderie of these memorable movies. While the young filmaker's original stab at comedy, Golmaal was amusing enough to keep the audience tittering, Golmaal Returns and Sunday were far from hilarious.

In comparison, All The Best is not entirely shabby. Inspired by the play Right Bed, Wrong Husband, it's a star-studded affair, which is (fortunately) low on innuendoes and high on excessive gimmickry and formulaic filmmaking. What makes this contrived farce work sporadically is not its fancy cast but the presence of veteran comedian, Johnny Lever. As the inspired caricature of Karz's Sir Judah, Lever, on the strength of his eyeballs alone, guarantees a good laugh.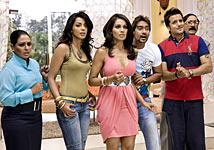 There's no real plot to speak of. A pair of friends concoct a lie about one's girlfriend being the other's wife to elude the elder brother's wrath. Predictably they land into further trouble ensuing into a comedy of confusion. Try and make sense of this and you will end up giving yourself a headache.

Basically, anything and everything in All The Best happens with the sole aim of generating a joke. Whether it's the housemaid's thick accent, a silly slum dweller turned millionaire's obsession with mouthing 'Just chill', a hyper Asrani hamming till it hurts, a Swahili-speaking troop of hoodlums or Sanjay Dutt and Devgn's constant game of Tom & Jerry, the idea is to punch is as many jokes as possible -- corny-one liners, rhyming quips, digs at Bollywood, slap-stick fun. One antic if not the other is bound to work, right?
Most of the time the outcome is as cheesy as the t-shirts sported by many of its protagonists.

Devgn is not known to commit onscreen buffoonery. Despite his best attempt to play goofball he can't alone do what the wacky troika Arshad Warsi, Tusshar Kapoor and Sharman Joshi managed to do for him. All The Best could have done wonders with the addition of at least one of these actors.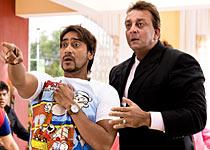 On the other hand, Sanjay Dutt and Fardeen Khan, if you can overlook their chubby rock star persona, do well in playing along with the foolhardiness. Whilst Dutt is bang on as the smug and suspicious businessman, Fardeen is quite convincing at faking those fainting spells.

All The Best is the kind of film wherein all the leading women has to do is wear high heels, trendy clothes and glossy make-up. When not forming a glamorous backdrop, Bipasha Basu and Mugdha Godse pitch in to play a stylish arm-candy to Devgn and Khan for songs picturised along the lines of stiff photo-shoots.
Agreed Godse is just starting out but it's hard to understand why a striking performer like Bipasha would sign up to play an embellishment at this stage of her career.

Speaking of decorative elements, why is this technically-average film obsessed with flora? The sets –outdoor and indoor are practically bursting with colourful flowers from every nook and corner. It's unbelievably distracting and inappropriate for a funny flick unless it revolves around bumblebees 

All these stars are pretty much in every frame of the caper, yet there's serious lack of chemistry between them. The dialogues might compel you to believe they are the best of friends, brothers or lovers but you couldn't care less.
Comedy is a delicate genre. It needs an accurate combination of fresh banter, palpable camaraderie and gauged response. All The Best isn't the perfect recipe for laughter but it sure has its Lever-filled moments.
Rediff Rating:

For All The Best ringtones and wallpapers SMS ATB to 57333