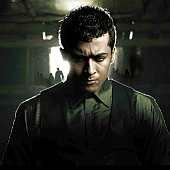 K S Ravikumar is known for his particular brand of movies: A little bit of action, dance, songs, comedy and thrills, all enveloped in a healthy dollop of lavish family sentiments, packaged attractively to entice even the most jaded viewer.

He's pretty much followed the same formula in Udhayanidhi Stalin's latest Diwali entertainer: the Tamil film Aadhavan, starring the ever-youthful Suriya.

Only this time, the director seems to have fallen for the latest fad as well; gun slinging assassins in permanent attack mode.


And the director, like most veterans, knows that the pace needs to be to ensure a crisp watch. After a series of slick montage of images, Aadhavan (Suriya) makes his entrance in company of Ibrahim Rowther (Shayaji Shinde), the all-tricks-up-his-sleeve ruthless killer who'll pick off any target for the right price.

And, like Ayan, Suriya dons all sorts of disguises in company of his mate (Anand Babu) to accomplish his missions, flitting from country to country, toting every weapon known to man, almost.


Naturally, he's in great demand, and is deputed by Reddy (Rahul Dev) for a big one -- killing Judge Subramaniam (Bharath Murali), who's hot on the scent of several child murders (mirroring the Noida killings). Our hero has to shut him up before his findings come to light but he's got to do it in Kolkata, where the judge's huge family is holed up along with him.


Enter the comedy element, a big one, in the form of laugh-a-minute gag-man Vadivelu.

He introduces Aadhavan into a gregarious household consisting of Thara (Nayanthara, looking haggard beyond belief), the judge's mother (B Saroja Devi), who applies make-up half the time and is ragged in a wholesome fashion about it, Thara's cousin Ilayaman (Ramesh Khanna, whose story this is) and a host of others who are there for no purpose except to fill up the rooms.


What follows is (diluted) cat-and-mouse game where Aadhavan looks for one opportunity after another to take a pot-shot at the Judge, while Vadivelu provides so much comic relief that you lose track of the assassination after a while.


Thara is slim, tries to look pretty, and barring one or two scenes has nothing to do except danced to Harris Jeyaraj's romantic numbers, while the city police tries to guard the Judge.

Meantime, Reddy makes an occasional appearance, frightening Rowther at will.
But the family sentiment suddenly rears its head and among those moments is the much- spoken-about flashback with a 10-year old Suriya, with Anu Hassan putting in an appearance. Freaky in the beginning, but you get used to it after a while. Until the explosive climax, of course, which does manage to satisfy you, even as you shake your head at the gags.
The best thing about Aadhavan is that impossible plot points, and general silliness aside, the director doesn't really let the narrative pause. With the story happening mostly in Kolkatta, there's plenty of local flavour added.

Something keeps happening to pull you into full-on entertainment mode -- and if its Suriya involved, the audience doesn't care what he does, as long as he's there on-screen.

The man spouts Rajni and MGR dialogues, sings their songs to much applause and is gradually transformed into a star in front of our eyes but Suriya being Suriya, there is no star-title tagged to his name yet, and some element of logic follows his actions, making you believe in the magic on the silver-screen.

He sings, dances, and fights with absolute sincerity -- but when he looks at you with tears in his eyes in an emotional scene tailor-made for him, the applause hits the roof. This is completely his film: the camera focuses on him every single moment and he makes sure you stay glued to every nuance, smile and frown.


Nayanthara doesn't show quite as much skin as, say Sathyam -- and that's a welcome relief. The actress has absolutely nothing to do except sit pretty and while her figure accomplishes this, she looks like she wants a long sleep right away.


B Saroja Devi, entering the Tamil screen after 12 years, has nothing to do except wear silk sarees and wag her hands artificially. For all his obvious respect for the actress, K S Ravikumar has had considerable fun at her expense, slotting in funny jokes about her pancake make-up and the way she slathers it on even at this age. Shayaji Shinde, Riyaz Khan and Anand Babu barely make an impression.


Aside from Suriya, though, the man of the movie is undoubtedly Vadivelu, who keeps you in splits through most of the first half. He's back in full form here, providing the perfect, silly foil to the hero, and walks away with much of the applause.


R Ganesh's cinematography is slick and scores greatly during the stunt sequences, lovingly choreographed. You must admit that it does keep you on the edge of your seat, especially the climax. So does Don Max's editing. Harris Jeyaraj seems a bit out of his depth with the background scores in such a wholesome entertainer but Varaayo and Hasili Fisiliye keep the whistles and cheers going.


The man of the movie is certainly K S Ravikumar, though. He's added a slick gloss to his usual masala quotient, producing a movie that's a neat cross between a Diwali explosion and his trademark family blockbusters. He's capable of poking as much fun at himself as at others and that's a definite plus.


Aadhavan is uncomplicated, clean, fun, and doesn't expect you to take it seriously.