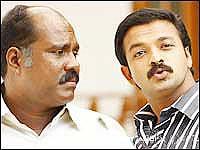 Actors in Malayalam cinema do not shy away from self deprecatory humour about their physique or mannerisms. Sreenivasan is the best example of this followed by Kalabhavan Mani, who in his latest movie Oru Black and White Kudumbam is shown as suffering from a complex on account of his dark skin as his wife and child are fair skinned. This fact is established within the first 15 minutes of the movie making us wonder how the story will unfold if this is the central issue.
The story credited to director Shaiju Anthikad goes on to show the unique father-son relationship between Antony (Kalabhavan Mani) and Aditya (Jayasurya). It is based on banter, witticism and friendship. Antony is a truck driver who eloped with Lakshmi (Vinaya Prasad), a girl from a royal family (the justification for colour correction; pun intended). Antony has MBA dreams for his son Aditya, who wishes to migrate to Australia, but is cheated by a visa broker. This bankrupts the family.
Towards the second half, a plethora of new characters pop up including the female lead played by Bhama. If you are interested in knowing where the narrative goes from here -- it is not worth the effort -- you will get to see 'laugh out loud' moments sprinkled abundantly throughout. Otherwise it is really confusing and even boring.
So, the responsibility of keeping us interested in the proceedings solely depends on the cast. Even the supporting cast that includes ubiquitous Suraj Venjaramoodu and Bijukuttan among others do chip in, but, we doubt whether their efforts give the desired result. They do somehow pull on till the end.
Kalabhavan Mani, once again proves that he is a star in his own right. He emotes, dances, fights and does comedy; that too with a bald pate and salt and pepper moustache to signify age. Still looks credible.
Jayasurya does not get a chance to go beyond his usual self. Sometimes it feels that he is just a sounding board to Kalabhavan Mani.
All in all, Oru Black and White Kudumbam is an underachiever if we consider the potential it showed in the beginning.
Rediff Rating: