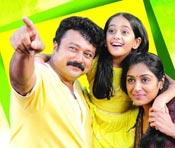 In the most awaited Jayaram film of the season -- Kaana Kanmani, Jayaram teams up with the writer-director team of K Gireesh Kumar and Akku Akbar, who gave him one of the biggest Malayalam hit in recent times -- Veruthe Oru Bharya. There is no denying that the commercial prospects of this endeavour are bright as it uses manipulative sentimentalism that may work very well with the average viewer.
The story begins with a duel of one-upmanship between a husband and wife-Roy (Jayaram) and Maya (Padmapriya), both working. The banter does not stop at sharing of domestic responsibilities but being a couple of mixed religions, it extends to taking a dig at each other's religious beliefs; (a few of them are really clap worthy).
Then, we have an over smart filmy kid Anakha (Baby Nivedita), who has recently won a reality show and is wise enough to fuel the war of words between her grandparents from both sides. The angelic girl starts behaving oddly and compels her parents to take her to their old house for a few days before going for a holiday to Singapore. At the house, her parents understand that their daughter is possessed, and slowly it is revealed who the culprit is.
The fizz and excitement of the beginning evaporates by the beginning of the second half. Agreed that this film propagates pro-life agenda and we don't have any issues with that. But, the way it is conveyed makes it, to put it mildly, outlandish. Our mind goes back to the low budget Anamika, which tackled the same issue at a psychological and spiritual level. Here the plot is thickened by giving it a ghostly twist. Above all, this film sermonises that every conceived foetus has a soul and has a right to live in this world.
Jayaram is his usual crowd-pleasing self in the beginning but loses his bearings later. The biggest surprise is by the little girl Nivedita who is a real pint sized dynamo. It is she who has our eyeballs riveted to the screen. Not just the light hearted sequences in the first half, but, even the virtual double role in the second half; she handles them with rare finesse.
Padmapriya oozes charm in the first half, and wins our hearts as the desolate mother in the second.
Vijayraghavan as Roy's father and Sukumari as Maya's grandmother handle the comedy department well initially. Later the mantle of enticing humour falls on the shoulders of overused Suraj Venjaramoodu as the rationalist domestic help in the ghost ridden.
Kaana Kanmani may have been made with noblest of intentions but the method of conveying the message somehow is lost in a ghostly conundrum.

Rediff Rating: