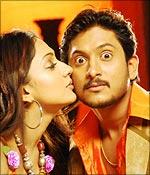 R Chandru's Kannada film, Prem Kahani is a love story with a difference. The story revolves around a rich girl in love with a slum dweller. 
Moote Manja plays the slum dweller who is a parasite of a rich friend Blade. While Manja and his friends are on the look out for a suitable match for their rich friend, a rich girl Sowmya falls for Manja.
Sowmya decides to marry Manja though much against the wishes of her parents. When she is forced to marry a rich businessman, she reveals her love for Manja to her husband who in turn, takes her back to Manja.
It's only after Manja and Sowmya get married that reality hits them hard. The couple's problems post-marriage are well narrated and realistic.
The real hero of the film is music maestro Ilayaraja who has composed some melodious tunes and has also done fantastic recording work. Chandru's dialogues are also an attraction. He has been helped by Chandrashekhar's brilliant cinematography.
However Chandru should have tried to maintain a very good pace. The first half is too lengthy. Just for the sake of having an interesting point before the interval, the director has extended the film to more than 90 minutes in the first half. Though the second half looks real, the sequences do not make a big impact. Except for the last song which really touches your heart, the other scenes lack the necessary punch.
Ajay is perfect as Manja. His body language and dialogue delivery are good. Sheela has come out with her best performance yet. All the other veteran artists have also performed with ease.
All in all, Prem Kahani is worth watching.  
Rediff Rating: