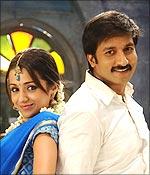 Gopichand returns with yet another action movie Shankam (Telugu). Umpteen movies have been made around faction fights peculiar to the Rayalseema region, and this is one more addition to the long list. The conch (shankham) is a metaphor for the fights and action, and director Siva tells a story which has the usual masala.
The first half of the film set in Sydney hardly gives you an idea about the kind of action that is in store. Chandu (Gopichand) is a happy-go-lucky guy being brought up by his uncle Krishnaiah (Chandramohan). He is terribly fond of action and looks for opportunities to fight. He sees Mahalakshmi (Trisha) hitting a man, and falls in love with her. Then he starts wooing her. The twist happens when her aunt arrives in Sydney to take her back to India. That was when she realises her love for Chandu.
The expected happens. Both return to India and they come to know of the rivalry between their fathers. Chandu happens to be the son of Sivaiah (Tamil actor Satyaraj) and Mahalakshmi the daughter of Pashupathi (Kota), both arch rivals. The rivalry between these zamindars goes back a few decades and both leave no opportunity to show the other down. Sivaiah is gunning for Pashupathi's brother (who is in exile but comes back). It is in this scenario that both the zamindars get to know of the love affair.
So, the second half is filled with action and gore. It stretches till you actually want the movie to end. The two halves are quite a contrast -- from Sydney to a village in Andhra Pradesh. There is enough of rural visuals (right from the fields, houses to even fighting in wet soil of the fields) to enthuse the audience from the rural areas.
Director Siva has a bright first half, especially the characterisation of the heroine. Otherwise, the film dwindles into the rivalry game with some loud dialogues. Siva's first film Gopi Souryam was also in the action genre.
Gopichand has a perfect film as far as acting goes -- he simply cakewalks through the role. Full of energy and zing in this role, he renders his dialogues well too. If only he could come out of doing these routine action movies he's been doing and experiment a bit, he could showcase his acting skills better. He seems to be stuck with the 'mass' hero tag which he lives up to well but a change may augur well for his career.
Trisha's characterisation is slightly different. She plays a girl who fights, sporting short skirts and spouting angry dialogues till she falls in love. In the second half, there's nothing much for her to do. It's a pity that her role was reduced like this.  There's a paradigm shift in her character in the second half -- gone is that fire in her and the short skirts give way to half saris. Trisha-Gopichand pair looks quite good, though.
For Satyaraj, this is one more role of a zamindar in his filmography and he does this with considerable restraint. Satyaraj must be so used to doing umpteen roles like this that he could have done this with eyes closed. Kota is at his aggressive best. Chandramohan is good in the first half. Ali, Dharmavarapu Subramaniam and Venu Madhav try to induce the laughs to some extent.
Vetri's camera work in the songs (especially in Sydney) and in one or two action sequences is worthy of mention. Thaman S' music sounds good with the visuals on screen but nothing worthwhile to remember later.
On the whole, Siva churns out a mass movie which may fare well in the B and C centres. It can be watched for Gopichand if you can bear the tedium of time and action and a cliched storyline.
Rediff Rating: