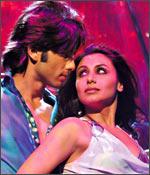 There's indulgence and there's overkill. But when it stretches beyond that, it's simply an excessive fest of clichés. In that sense alone, Dil Bole Hadippa, though not necessarily a bad film, suffers from too many déjà vu-evoking distractions to wholly work.
To begin with, there's Yash Raj Films's stock supply of Punjab. The open-terrace block house looks awfully familiar. Do Veer and Zaara still live here?
And pray, where have I seen those lush, green fields before? What do they grow, quizzes Shahid Kapoor to Sheryln Chopra in one scene. Who cares? They never really provide any food for thought anyway. 
Then there's Ik Onkar humming incessantly in the backdrop. Perhaps Surinder Sahni and Taaniji plan to drop in? Also,if you thought you had seen the last of Dilwale Dulhania Le Jayenge (Rab Ne Bana Di Jodi, Bachna Ae Haseeno, etc, etc) tributes, you got another thing coming.
A colourful-painted truck, almost always mysteriously parked in the middle of a-mostly-deserted-road echoes memories of Madhuri Dixit's fancy auto in Aaja Nachle. Still more Yash Rajisms thrown your way: Rani Mukerji sportingly dresses up in the gaudiest re-runs of her Bunty Aur Babli wardrobe and attitude. But this time cricket not con has caught her fancy. But of course, Babli habits die hard. This time around, she transforms herself from nautanki aid Veera to Sardar boy Veer to slip into an opening batsmen's gear in a Men's cricket team captained by London lad Rohan (Kapoor).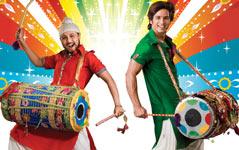 Logic? (Huh, come again!) Apparently, there's no cricket team for women in Amritsar. Interestingly, in Shimit Amin's Chak De! India, also a Yash Raj offering, one witnessed young women from remote parts of the country battling their way into the Indian hockey team. In comparison, masquerading as a boy to prove a point isn't all that remarkable as the makers would like us to believe. Nor is the fact that for a movie about gender bias, the decidedly senior Rani gets a second billing in the credits.
Then again, in debutant director Anurag Singh's Dil Bole Hadippa, which religiously adheres to the present-day Yash Raj school of thought, Amritsar resembles a green, uninhabited space in the outskirts, no bigger than Lokhandwala, wherein everyone knows everyone. Here, people break into impromptu bhangras, begin every sentence with the much-abused 'Oye' and stage item numbers in the middle of the day. Questionable time table aside, the choreography (good show by Vaibhavi Merchant, Chinni and Rekha Prakash) coupled with Pritam's infectious ditties (penned crisply and wildly by Jaideep Sahni) is most dazzling and impeccably performed, especially where Rani does a Veer.
Truth be told, Dil Bole Hadippa only works as long as Veer takes centre stage. Rani, as the animated, over-confident Sardar boy and die-hard cricket buff is instantly endearing and amusing. Some of her gags as 'him' really work. And while her chemistry with Shahid Kapoor, as the imp Veera, borderlines on 'bleh', their camaraderie on her turning Veer takes an altogether fun form.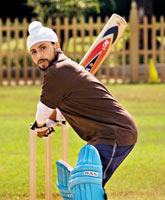 It's not her best performance but the actress has visibly put in a lot of effort and gusto to the part. While we don't really care for Veera, Veer certainly deserves a pat on the back. Not every performance can level the memories of Kaminey, or Jab We Met but Shahid with his trademark restraint and almost-a-superstar screen presence does well as the leader of a mostly inconspicuous brat pack.
Too bad the romance track between the two is nothing more than a excuse to bide time before the script can arrive to the impending cricket match. Oh by the way, all this hullaballoo is over winning some patriotism-driven Aman Cup, played between India and Pakistan.
If you can discount some of the Veer-Zaara inspired cheesiness to follow along with terrible exercises of humour -- namely  broken Hinglish exchanges (You Kaala bhainslo, yadda yadda) and gems like, 'Yeh Indian dil hai. Cello tape se nahi Judta and a reaa-llll-yy long climax, your 'Dil' might just find enough strength to mutter 'Hadippa'. Ha, like that's ever going to happen!
Rediff Rating: