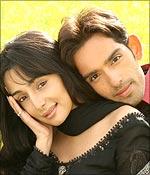 Perched on a shikara and clad in traditional Kashmiri attire, the heroine impishly strokes her cheek with a yellow gerbera while the ogling hero reprimands his friend with a, Zyada gaur se mat dekh, maili ho jayegi. (Don't stare too hard or she'll get dirty).
Once upon a time such exaggeration actually made sense, especially if these corny lines came out of Shammi Kapoor's mouth and the lady on the boat would happen to be the famously-dimpled Sharmila Tagore. Too bad this isn't the 60s and the era of Shakti Samanta's melodramatic musicals is long gone.
Instead what director Raj Kanwar does is make a rather feeble attempt to palm off an unaesthetic period film and its dated sensibilities to an audience that has clearly moved on.
Best known for melodramatic, formulaic yet mildly entertaining fare with catchy music like Deewana, Jaan, Har Dil Jo Pyaar Karega, Andaaz and Humko Deewana Kar Gaye, Kanwar gets it all wrong with his latest, Sadiyaan, a rushed exercise in putting together a preposterous script and patchy screenplay featuring reliable veterans and incompetent newcomers.
Sadiyaan starts out like a Gadar-inspired tale of Indo-Pak partition, proceeds to develop into one of those Shashi Kapoor-Nanda romances set in Kashmir only to move into the Hindu-Muslim loggerheads territory and finally settle to make its mark against Bollywood's beloved Maa fixation.
It's the kind of film where you can expect to see an animated-to-the-point-of-overbearing Amritsar family where everyone plays the loud, annoying Punjabi stereotype beginning every unfortunate sentence with an Oye yaar or Hai Rabba. Only this Assi-Tussi overload turns out to be the least of your problems.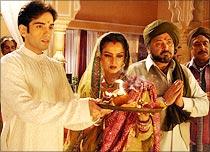 The ordeal wouldn't seem so stretched and tormenting if it was accompanied with a shred of realism or heartfelt performances. Sure, it has the likes of Rishi Kapoor, Hema Malini and Rekha known to breathe life in the most contrived of characterisations. But while Hema impresses with her regal grace and understated glamour and Kapoor is incapable of anything less than satisfactory, Rekha disappoints as the raccoon-eyed, hyperventilating mommy in a continually high-strung mode.
Even the stupidest of movies have turned out to be watchable and, on some rare occasions, even entertaining owing to an actor's conviction and presence that makes the incredulous look credible. This one, however, rests on the shoulder of a bland newcomer, namely Shatrughan Sinha's son Luv.
The scrawny star kid lacks the charisma and punch that helped his father, despite his unconventional looks; wipe out all prejudices to be widely acknowledged as a leading man of substance. With Luv, it's a case of zero chemistry between the camera and him. Whether he's unimaginatively romancing the girl or meekly pining for him mother, the boy is completely oblivious to the concept of expression. 
His love interest, Ferena Wazeir is just as bad. Take her dialogue delivery alone. It's hard to tell whether she's lisping, being coy or acting dumb. And if Kanwar's intention is to project her as a demure 70s girl, her body language and gestures are plain amusing.
What's not is how an elaborate Adnan Sami composition pops up after every five minutes, a painful reminder of how farther away you are from the impending soppy climax. That's the thing with Sadiyaan. It actually feels as long as its title for Kanwar not only rakes an old-fashioned subject, his treatment is outmoded too. And there's nothing vintage about that.
Rediff Rating: