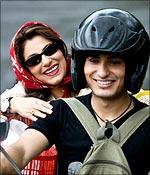 Even as the last decade has seen our cities populated with coffee and burger chains how many of us have stopped to consider what activity flourished here earlier? And was there anything just a wee bit illicit in the way the property was acquired?
Delshad (Dimple Kapadia) runs a small restaurant Lucky Cafe which is patronized by people of all ages, all castes and all sections of society. She's old school and is nice to people irrespective of who they are and what they do. In this scenario she encounters Subramaniam (Nana Patekar) a stiff upright Tamilian who has been forced into premature retirement as he refuses to get tech savvy. This is the senior citizen generation.
Then there are the young adults. Amit Nagpal (Suniel Shetty) is a typical 30-something yuppie Indian whose existence revolves around owning a supercar. His wife Anita (Vidya Malavade) of course detests his need for material goods. The teenagers come next. Shalini (Anjana Sukhani) has blonde streaks in her hair, and struts around like a queen bee to disguise her middle-class origins. She has a passionate admirer in Bikramjeet (Rehan Khan) the small town boy who has just landed up in Mumbai and is trying to make some sense of this chaotic city.
Three generations, six individuals, diverse temperaments. Probably the only thing they have in common is their attachment to Lucky cafe. Till one day a huge multinational decides they must acquire Lucky Cafe. When persuasion and flattery fail they take recourse to blackmail and arm twisting. And each of them is forced to take a close look at their own lives, their dreams and aspirations.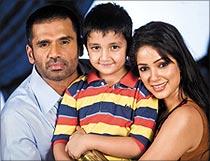 The first half of the film is light and frothy. Nana Patekar has been given excellent dialogues. Combined with his simple body language you break into a smile every time Nana appears on screen. With minimal make-up, a down-to-earth functional wardrobe, Dimple is far from glamorous, yet she radiates energy whenever she appears on screen. And her encounters with Nana are a treat to watch.
Suniel Shetty has been cast in his villainous Main Hoon Na persona. It's a pity because the role doesn't demand that level of overacting. Vidya Malavade is restrained and effective. Anjana Sukhani and Rehan Khan are cute. It's no small achievement to hold your own in an ensemble cast where there are stalwarts such as Nana Patekar and Dimple Kapadia. Yet these two succeed in pulling it off.
It's in the second half that the film completely loses focus. Are multinationals stupid? Do they make offers for crores of rupees without even verifying the ownership deed? Will a heritage committee get involved when no demolition is being suggested? Can repairs to the upper floor be carried out without any kind of permission from the muncipality?
It's not just the basic premise that is flawed. There has been a zero attempt towards authenticating the script. Lawyers' especially topnotch ones do not go personally to serve notices. There is somebody known as a bailiff. The mandatory courtroom scene makes a mockery of the law, the witnesses, the lawyers and the judge. It's such a pity when actors such as Dimple Kapadia and Nana Patekar are given repetitive meaningless dialogues so that the film can wind its way towards a predictable climax.
The songs are forced and add no value to the film. And Irshad Kamil is a talented lyricist. Even the brief appearances by Raghav Sachar and Tanisha Mukherjee fail to pick up the film.
For all those who think Nana Patekar is great with comedy, go watch the film. And for all the people who love Dimple Kapadia the lady remains as charming and feisty as ever please see it. Else give it a miss.
Rediff Rating: