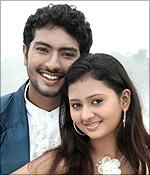 The Kannada film Premism that has Amoolya, newbie Varun and Chetan in the lead and comes with a ek phool do maali story line, is as entertaining as promised by director Rathnaja.
Both Varun and Chetan are childhood rivals even though their families are very close. Varun's father is a police constable whereas Chetan's father is a police commissioner. But this doesn't stop Chetan's father from pampering Varun and treating him like his own son.
However the boys are always trying to outdo each other, be it racing bikes, cricket matches, clothes or studies. This competition comes to a head when they both start loving their new neighbour, Amoolya.
After pulling fast ones over each other, the two decide not to waste more time and confess their love to the girl.
There is not a dull moment in the first half and the film moves briskly. But it is the second half that stretches. It is almost like you are watching another film.
The first half belongs to Varun and Chetan while Amoolya takes centre stage in the latter part.
Amoolya makes you forgive her previous performances by proving her mettle in Premism. She has also undergone a makeover for her role and kudos to designer Sourabha Ajay for her looks.
Varun churns out a fine performance and will surely go a long way in the industry. Chetan does justice to his role. The supporting cast including Ananth Nag, Avinash and Ninasam Ashwath do a fine job too.
Dialogues play on the popular lingo of today's youth and are easy to relate to.
Hamsalekha's songs are catchy. A song which carries the tunes of Kurrak Kuknalikere... a hit number from Nenapirali, directed by Rathnaja, has been composed for the film. The song speaks of prominent areas in Mysore. Choreographers have used a mix of contemporary, tap, classical and folk styles to match the tunes.
All in all, Premism is for those who like love stories!
Rediff Rating: