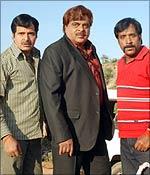 Rajendra Singh Babu's Kannada film Thipparalli Tharlegalu fails to live up to the hype it had generated. Even Kanwar Lal's return to the big screen fails to save the film.
The film comes with a strong social message and this is its only strong point.
Thipparalli Tharlegalu is a story of how a barber, a tailor and a washer man fight government apathy towards fulfilling their basic needs. Tired of money minded politicians' lack of interest in their well being, the trio, played by Komal, Omprakash Rao and S Narayan, decide to take matters into their hands.
The death of a young boy after falling into an open drain, instigates them to take on the erring politicians. With the help of a woman corporator, they hatch a plot and get developmental works going in their slum. There are constant barriers in the form of officials who expect bribes to clear these works and unable to counter such elements, they seek the help of Kanwar Lal. Lal is a character who was seen in Babu's super hit film Antha. He would have gone to jail after taking on mighty and evil politicians.
Kanwar Lal (Ambareesh), who returns to silver screen after a gap of over 20 years in the disguise of an NRI, not only mouths his evergreen Kuthe Kanwar nahi, Kanwar Lal bolo... dialogue but also bashes up the baddies and even shakes a leg to a club mix. But none of these can save the film.
Komal, who was outstanding in Aptharakshaka also fails to do much here. He sports a Rajinikanth (in Shivaji) inspired look in a song, but that doesn't make an impact either.
Despite the presence of Dodanna, Umashree, Sadhu Kokila and Bullet Prakash, who are known for comedy, the film does very little to tickle your funny bone.
The leading ladies are mere props and you can hardly feel their presence.
However the film touches upon current issues plaguing Karnataka politics such as the rich and muscle powered mining lobby; akrama-sakrama scheme and BMIC corridor. The film also highlights the god fearing nature of some politicians, their habit of conducting havans at the drop of a hat, protests and fasts they hold "in the interest of people" and their scandals.
Just like the recently released Sugreeva, this film too questions the lackadaisical treatment towards the have-nots. The film raises questions such as, "Is politics just about publicity and money? Is it only bullets that do the talking in the field? The film in short speaks of the death of democracy that we are witnessing. If only the theme was backed by punchy dialogues and dry humour!  
Babu, who has given films Kurigalu Sir Kurigalu, disappoints this time. Thipparalli Tharlegalu is a letdown.
Rediff Rating: