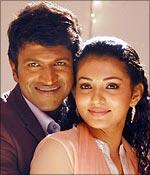 The latest to be bitten by the realistic cinema bug is Puneet Rajkumar.
The actor plays a tough government official in the Kannada film Prithvi who is out to bring to book corrupt officials and industrialists.
Director Jacob Verghese chooses Bellary's mining lobby as the main focus.
Prithvi's (Puneet) dream of serving the people as a civil servant comes true when he is posted to Bellary as a district commissioner.
Bellary being an epicenter of crime and corruption, the upright officer has a lot to resist, from 'felicitations', cash laden suitcases to life threats.
Not passing a file in favour of a mining company, whose owners' reach extend to the power corridors of Bangalore only increases the odds against our hero. How long the brave DC stays his ground and to what extent he risks his family's safety for the cause of the state and its people is what makes up the rest of the film.
Prithvi exposes the mining lobby that is behaving like the "high command" in the power circle of Karnataka's ruling party. The film also holds a mirror to the illegal mining scenario, and the environmental hazards of mining, and how it is being ignored by both the government and sections of the media due to vested interests. 
Jacob Verghese adds commercial touch to this serious subject by including some heavy duty action sequences. Stunts by Rajshekar have surely added more 'punch' to Puneet's 'Power Star' image. His fans won't be disappointed.
With this film, Puneet breaks away from his onscreen college boy and porki images. He does justice to the role and looks every bit an uncompromising official.
But what is disappointing is the very little screen space given to his leading lady Parvathi Menon. She is mostly confined to songs. Nevertheless, the good chemistry that they shared in their previous release Milana remains intact. 
Familiar faces like Srinivasa Murthy, Ramesh Bhatt, Padmaja Rao, C R Simha, Achyuta, Satyapriya and Avinash make breezy appearances. Sadhu Khokila provides well timed comic relief. John Kocain as the villain is well cast.
P Satya's quality camera work makes a significant impact on the audience too. His shots add depth to the performances and locations. The lighting and editing team deserve credit for their good work. 
Dialogues at some places seem preachy, but for most part packs a punch. Some of them have obvious references to the beliefs and sentiments of legendary actor Rajkumar.
Unlike in Savari, Manikath Khadri's music does not cast a spell over you. Shruti Hassan's nenapidu nenapidu...is the only song that is likely to linger. Also some songs halt the pace of the film and could have been done away with.
Prithvi is definitely a treat for Puneet fans.
Rediff Rating: