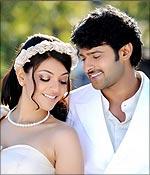 The Telugu film Darling is yet another love story from Karunakaran's stable.
His last film Ullasanga Utsahanga was a big hit at the box office, not to mention the other big hit Tholiprema starring Pawan Kalyan and Kirti Reddy.
Darling too, opens with promise as it has Karunakaran's trademark comedy and his penchant for showcasing clean wholesome family entertainment. But don't expect anything unusual as the screenplay takes the beaten track at times, but soon returns to its logical route.
Prabhas (his screen name too) is a fun loving youth, just finished his graduation and is yet to make up his mind about his next move when his collegemate proposes to him. But Prabhas is not interested and makes no bones about it. The spurned girl dashes home and attempts suicide. Her doting father, a powerful don is unable to digest this. So Prabhas is served an ultimatum. He should either marry the girl or face death.
But Prabhas is already in love and the girl is in Switzerland. The scene shifts to Switzerland. 
True to Karunakaran's style, Darling is a family entertainer. It's clean, there is no double entendre, no violent stunts, even the fight scene in Switzerland was well executed. Surprisingly no item numbers too! 
Prabhas is refreshingly different in this film. No flexing of muscles and no heavy dialogues. He appears down to earth and is quite endearing too. Kajal looks nice and bubbly.
Music plays a vital role in all of Karunakaran's films, and music by newcomer Prakash is good. Same with the cinematography and Switzerland and Araku have been canned beautifully.
The screenplay, replete with  twists and turns, sometimes makes you feel a little restless but on the whole it is an entertaining film.
Rediff Rating: