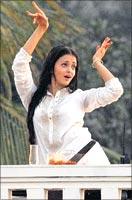 You can blindly count on some combinations to never fail.
The tuning between filmmaker Mani Ratnam and master composer A R Rahman is one of them. The curiously titled Raavan is their tenth collaboration since Roja and the vivacity of this merger has neither lost its ardor nor its willingness to explore.
Said to draw contemporary parallels from the great Indian mythological epic, Ramayana, Ratnam's eagerly-awaited offering features Abhishek Bachchan, Aishwarya Rai Bachchan and Vikram as its lead players. And if the soundtrack, soaked in Gulzar's penetrating imagination, is anything to go by, Raavan is going to be a mostly intriguing experience.
Never to give into the comfort zone trap, Rahman delivers a sound mix of zingy rusticity and zealous verve. Inspired by the calypso-flavoured wilds of Africa against the trumpeting dramatics of desi folk tunes, the thumping beats of Beera reiterate just that. Winsome from the word go, Beera's effectiveness is further escalated through the booming fervour of Vijay Prakash and Mustafa Kutoane with some piquant dressing of Keerthi Sagathia's piercing huskiness.
The frothiness of this ensemble makes an instant connect with the listener. It takes a while to get off the loop before you want to get on with the rest of the album. Says a lot about Beera, right?
From upbeat to intense, Raavan's mood changes gears with Karthik's blazing rendition of Behne de. And while Rahman builds a suitably thunderous aura to match the fierce passions of Gulzar's words, this is essentially a performance-oriented creation. At times reminiscent of Sonu Nigam's feverish chant in Dil Se's Satrangi re, though much restrained, Karthik delivers a sonorous punch.
Upbeat returns with a bang, quite literally with Sukhwinder Singh and Am'nico's strapping execution of the rhythmic rhyme play, Thok de killi. Gulzar's rare brand of wizardry concocts some heady visuals with nuggets like Raat ka maal, raaton ne loota. Chaand taaron ke guche udaye. Din nikalna tha. Apna bhi nikla. Kismein dum hai ke suraj bujhaye?' There's enough drama, drum and drive in the stalwart Killi to please all and sundry. Needless to say, it does.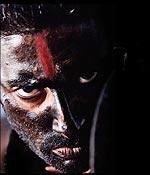 Following the chartbuster Killi, Rahman aims to impress with Rekha Bharadwaj and Javed Ali's ravishing, romantic overtures in Ranjha Ranjha. Yet again, Gulzar scoops out some gems from his treasure of insight and invention to assemble a precious poem of glorious attachment and immortal love. A free-wheeling melody embellished with exotic arrangement, Ranjha flaunts its breezy presence and marriage of vibrant vocals with such poise, which is both alluring and inspiring. Remember her delicate whispers in Meenaxi's Yeh rishta kya kehlata hai Khili re?
Reena Bhardwaj returns to her dainty roots with the leisurely, amorous and soft strains of Khili re. Khili's texture brings back memories of Rahman's glass-like lullaby Jaa ri jaa (Duniya Dilwalon Ki). Despite it's fragile disposition, this tender piece makes sure its blithe presence doesn't go unnoticed in an album filled with extrovert songs.
Post Beera, the sound of bigul makes another sprightly appearance, this time to rejoice in the celebratory and playful notes of Kata kata. Personifying the bridegroom to a scapegoat, Kata features the collective huskiness of ethnic specialists Ila Arun, Sapna Awasthi along with Kunal Ganjawala. Its teasing and raunchy undertones and walloping beats are akin to Roja's Rukmini in spirit but devise a tangy, earthy aroma unique to it alone. That's the beauty of Raavan.
Rahman stays true to the element of Ratnam's vision as there's never any attempt to show off or introduce unnecessary elements. The outcome is exquisite. Or should I say expected.
Feel free to send in your feedback as well.
Rediff Rating: