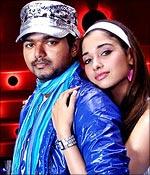 He sings and dances with elan, wears stylish costumes to make a point to his colleagues and audiences alike and, as expected of any Tamil super-hero, fights every evil-doer in the vicinity with single-handed panache.
Not very surprising, considering its Ilayathalapathy Vijay, assuming his latest avatar in Sura (Shark), directed by S P Raajkumar (previous works include Azhagar Malai), and produced by Murugan Cine Arts and Sun Pictures.
This is a landmark movie for the hero. As his 50th film, its generated enormous anticipation, and has been announced by the star himself to be his last "mass" movie; he'll be choosing different scripts in the future. And so, the stars shine brighter; the stunts are gorier; the dance-moves glitter even more than usual.
But if you think this is all Sura's about, you've got another thing coming. For the movie is quite a sturdy platform for the star's political aspirations.
True to form, Vijay dons the role of a do-gooder hero in this one as well: he's Sura, the man to whom the entire population of the fishing hamlet Yazh Nagar (the name is significant) turns to, problems and political pressure notwithstanding.
He can snag the biggest fishes, work the strongest boats and bash any number of men, courtesy a number of dazzling punch dialogues, and to prove the point, you have the opening number, Vanga Kadal Ellai.
Another example is his confrontation early on with Inspector Das (Riyaz Khan), who's in cahoots with the local money-lender. Sura quotes Arignar Anna and other leaders as he explains the ways of living to them, and walks away, having taught them a lesson.
Punch dialogues notwithstanding, Sura has an important ambition to fulfill: he will somehow supply all the families in his hamlet with proper houses, instead of the huts they currently live in.
On a tangent appears the comical Umbrella (spelt Ambarla, by Vadivelu and his cohorts), who's Sura's sidekick (literally), but manages to provide a good deal of amusement.
Particularly hilarious is the pair's first encounter with Poornima (Tamannaah) who dazzles despite her permanently midriff-revealing dresses. Poornima, saved from a rib-tickling suicide attempt, is quick to fall in love with Sura, but he has certain reservations: he won't accept her love until his house-building goal has been achieved.
Enter the sinister villain Samudhra Rajan (Dev Gill, villain of the Telugu blockbuster Magadheera), who gnashes his teeth and swears to kill anyone who dares to cross him in terrible lip-synch (what were the production guys doing?).
He covets Yazh Nagar for himself and goes to the length of burning down the hamlet, trying to extinguish Sura in the process. But what's a super-hero who can't rise from the dead like a phoenix? Sura does in style – donning a cool avatar in the process. And if you can't guess the outcome, then you've been living on another planet.
Vijay is at his stylish best here: he dons the casual wear of a fisherman and snazzy designer-wear with ease. The glint in his eyes when he utters punch dialogues adds pep to the proceedings, and his screen presence is undeniable. He's got a genuine flair for comedy, as his scenes with Vadivelu prove. His reputation as a neat dancer is confirmed once again: Thanjavoor Jillakari (half the steps are lifted from the Telugu original) and Naan Nadantha Adhiradi are great to watch. The problem? He's not Sura, but himself, in every frame. And after a point, however the lectures on "How to Live Life" get tedious; something exhibited by the deadly-quiet audience. Acting-wise, he certainly needs a change.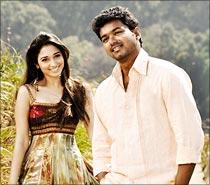 For quite some time now, Vijay's been making preparations for an entry into Tamil politics; Sura confirms it. Every third line refers to the current political situation, politicians or the budget. A steady gang of followers takes care to establish his popularity among the masses as well, and his potential as a leader. Kanal Kannan's stunts have him jumping entire buildings like Superman which beggars the question: why not finish off the villains in the first scene itself?
Tamannaah's role is miniscule, and only to be expected. But what she's given, she's done well, especially in the dance numbers. Vadivelu, despite being beaten half to death, walks away with plenty of the applause. Dev Gill's performance is nowhere near the menacing Raghuveer of Magadheera; few villains are this inept, and get bashed around this much. Ilavarasu, Sriman et al have all been wasted.
N Ekambaram's camera work is quietly effective, and shimmering, for the dance numbers. Don Max's editing seems a bit jerky in places. Mani Sharma has recognised the movie's "mass" tag, and fulfilled his role dutifully.
Movie-wise, Sura follows the done-to-death formula from the hoary days of MGR, so if you're expecting an intelligent script, disappointment will ensue. S P Raajkumar's screenplay looks like it's been patched together to allow for the songs and fight sequences, and has little cohesion. Of logic and rationale, there's pitifully little. Sura is, however, a sort of pseudo-manifesto for Vijay, future politician.
Give your brains a rest, and enjoy this mass masala entertainer. That much is guaranteed.
Rediff Rating: