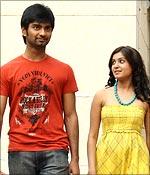 Pavithra Srinivasan reviews the Tamil movie, Baana Kathadi.
Sathyajothi's Baana Kathadi (Tamil's Kites) directed by Badri Venkatesh, has a lot of things going for it -- a reasonably good cast (if a trifle new), a great secondary cast, a locale that's almost as much a character as the players themselves and music by Yuvan Shankar Raja. 
There's also a neat technical crew in the form of Richard M Nathan and Suresh Urs. So, it should present an excellent story, filled with enough zip to generate a blockbuster.
The good thing is that the movie tries very hard. The not-so-good thing is that it doesn't quite succeed.
Considering the emphasis on kites, you're not surprised to see the movie beginning with SFX kites soaring in the sky in every size, shape and colour. But one flies above them all, one with the picture of Superstar Rajnikanth on it (such instances are strewn throughout the movie: Rajni appears whenever his picture can be used without making it appear outright that he's the hero, or is devoutly worshipped by would-be stars).
Obviously, the one flying kites would be the hero Ramesh (debutant Atharva), who, in company of his friends runs from "one end of Burma Bazaar to the other end of Chennai," as a cop puts it, in pursuit of it.
On the way, he bumps conveniently into beautiful Priya (Samantha Ruth Prabhu of Ye Maaya Chesave fame), a fashion design student. The two dust themselves off, unaware that Priya's pen-drive has tangled with a ball of thread in Ramesh's hands. Much confusion ensues: Priya, harried by her professor to complete her assignment, accuses Ramesh of stealing her pen-drive (how she, a rich girl finds her way to his home in the bowels of Royapuram, is a mystery); Ramesh steadfastly denies it, heckles her, and receives a slap in return. When his long-suffering mother, a frazzled, frumpy woman (Mounika), finds the pen-drive in his pant-pocket, Ramesh dutifully returns it to Priya. The two, in filmi fashion, immediately become friends.
Running through this syrupy and disjointed romantic track is a much serious story with a lot more promise: Ravi (Prasanna) is the area's goon-in-charge, and has a soft spot for the naïve and personable Ramesh. He carries on killing and maiming in cold blood, announces that his is a horrible life and commands Ramesh to find a better life.
But what's a romantic track if it isn't stereotypical, travel along predictable lines and rather silly dialogues? Baana Kathaadi follows through all these, but has a few uplifting moments in the form of Ramesh's friends (Karunaas and Co), and Ravi's serious misadventures. Unfortunately, those parts don't last long.
Atharva dances and emotes well -- not bad, considering that this is his debut. That's not surprising; he's actor Murali's son, and romance is a cake-walk. His dialogue delivery is a little too melodramatic though, and the Madras lingo doesn't roll off his tongue easily.
Samantha is a beautiful chocolate-girl who looks the part, but is rather unsure during the dance sequences. There's nothing much for her to do.
Karunaas fulfills his laugh-aloud character while the rest of the friends do very well.
Yet another surprise is Mounika as the loud-voiced, yet concerned mother. She proves that she's an artiste to reckon with. Prasanna, as the serious thug with a conscience adds considerable colour to the proceedings. You only wish he'd been given more screen-space.
Richard M Nathan, after Angadi Theru, brings some spark to the screen with his shots; the close-ups and the slight jerkiness give a realistic feel. Royapuram is an intriguing place to watch. Suresh Urs could have used his editing scissors better. Yuvan's music shows flashes of his brilliance at certain places, like the song Thakkuthe -- otherwise, he sticks to formula.
You see real promise in Badri Venkatesh's work when he focuses almost exclusively on the dirt-filled streets of Royapuram, so alive with its people and their undaunted spirit; the way he sketches secondary characters; their emotions, doubts and foibles.
The romantic track doesn't work so well; he ends up trying to liven things up with silly dialogues or syrupy sweetness, which rather destroys the effect. As a result, the sequences look jerky and unresolved. The climax, which aims to be a surprise twist, leaves you with nothing.
Some heartfelt emotion in the romance, more of the dark goonda story and less of the Madras lingo would have made this kite fly high.
Rediff Rating: