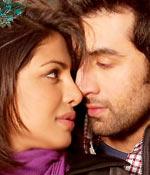 Sukanya Verma reviews the music of Anjaana Anjaani.
Fresh pairing, zingy music and truckloads of romance, Bollywood's recipe for date flicks remains unchanged.
After Imran Khan and Sonam Kapoor in I Hate Luv Storys, it's Ranbir Kapoor and Priyanka Chopra's turn to rub off their combined charms on to Anjaana Anjaani (watch the trailer here), a rom-com directed by Siddharth Anand of Salaam Namaste and Bachna Ae Haseeno fame.
As in the case of all his movies, this one too boasts of a Vishal-Shekhar soundtrack with lyrics by the composer duo along with Neelesh Mishra, Amitabh Bhattacharya, Anvita Dutt, Kumaar, Kausar Munir and Irshad Kamil.
The album kick-starts on a high strung note with the upbeat, animated title ditty sung with equal enthusiasm by Nikhil D'Souza and Monali Thakur (best known for her seductive Zara zara touch me in Race). A nifty package of spunk and spirit, Anjaani Anjaani doesn't break new grounds but works well on the strength of its catchy fervor.    
After lending his mint-cool vocals to the still-sparkling Ahista Ahista (Bachna Ae Haseeno), Lucky Ali returns as the sound of Ranbir with Hairat. It's a welcome move as the singer brings in a distinct personality whilst slipping smoothly into the high-pitched yet racy skin of this techno-quirky number.
2010 has turned out fabulously for Rahat Fateh Ali Khan with hits like Sajda (My Name is Khan), Dil to bachcha hai ji (Ishqiya) and Bahara (IHLS), the silky-voiced playback singer continues his winning run in Anjaana Anjaani as he aims to comfort and uplift in the encouraging words and dulcet beats of Aas paas khuda. An unplugged version of the same, co-starring Shruti Pathak, adds up as bonus.
Shekhar Ravjiani's lilting vocals impressed in Bin tere. Now he's at it again with the ultra melodious, R&B-inspired love song for the smitten, Tumse hi tumse. Though the western influences are too many and too strong to not notice, Shekhar and Caralisa Monteiro pack in enough vivacity for Tumse hi to flounder.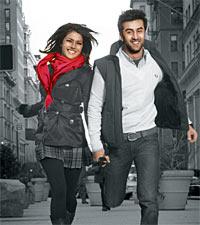 The buoyant tempo of the soundtrack slows down to accommodate a despondent and feverish qawaali meets pop blend, Tujhe bhula diya. It's an uncomfortable mishmash of an experiment, which reviews favorably as long as it's Mohit Chauhan-led mellifluous exercise in melancholy but the minute it swaps into qawaali mode, Tujhe bhule loses all its steam. A featured remix bears a touch of rave and accelerated reverberation. Unless your idea of exhilaration is cacophony, dismiss.
Sublime and stirring like young romance itself, Vishal-Shekhar's I feel good is compelling from the word go. Although it draws a lot of attitude and arrangement from its western counterparts, Vishal and Shilpa Rao's swinging ardour and intensity lends it sufficient credibility to complain.   
The duo resurfaces to ooze pastel-hued magic and dramatic chemistry for yet another title track. As opposed to the previous one's club-friendly temperament, the love ballad boasts of a relaxed tempo and creamy texture.
For all its aspired sweetness, Anjaana Anjaani's USP lies in its dynamic substance and stylish oomph.  
Rediff Rating: