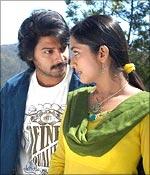 "God himself uses death as a blackmail instrument to terrorise us humans. Why shouldn't we take a leaf out of his own book?" asks a man of his protege.
That's the essence of Trans India's Rasikkum Seemane (which takes its name from the eternally popular Parasakthi number), directed by R K Vidhyadherhan (that's how he spells it), who previously achieved immortal fame by directing the Sarath Kumar starrer Vaidheeswaran.
As to whether the Tamil movie, lying in the cans for around two years, achieves at least a miniscule percentage of the classic status attained by the original number, is another matter altogether.
The movie begins, at any rate, with two boys, Nandhu and Arvind, arguing heatedly about something. Turns out that it's over a girl, Gayathri and about who loves her the most! As the young girl herself remarks, they're all only in seventh standard, for god's sake. And just as you congratulate yourself about this grain of common-sense contained, Gayathri stops their quarrel with the following ultimatum: she'll fall in love with whoever happens to become a doctor(!).
In the meantime, Gayathri's father is transferred elsewhere, while Nandhu meets with catastrophe: his father commits suicide after killing his mother. The youngster is taken care of his father's closest friend. As he cannot afford to help the kid become a doctor, he hatches a daring plan -- blackmail (which is when he quotes God).
Fast forward a few years later and you've got an adult Nandhu (Srikanth) who is an erstwhile student and professional blackmailer, now operating under the aegis of his Guru (R K Vidhyadherhan himself), and his associate (Sathyan). The ease with which the trio gets their hands on prime blackmail material would be funny, if it weren't so ridiculous.
Tiny cameras abound in the ministers' homes; Nandhu himself pops in everywhere very conveniently (exactly how he manages to do this is never explained). Security poses no risk, no one dares to out them; Nandhu and Co waltz through life with every single VIP in their pockets.
Until Gayathri (Navya Nair), the girl of his dreams now pops up. Now a personable young woman Nandhu is once again bowled over by romance. There's one small hitch, though. She's already met Arvind (Arvind Akash) who actually has become a doctor. Realisation comes to Nandhu slowly but when all his plans to stop them falling in love backfire, he decides to take some drastic action.
It's a good script on paper, and could have been an edge-of-the-seat thriller but R K Vidhyadherhan (the name's spelling is bizarre) decides to reduce it to masala pot-boiler fare by thrusting in several out-dated Vijay Antony numbers. Even the remixed Rasikkum Seemane, filled with titillation fails to intrigue. Every intriguing plot-twist turns into a damp squib, while the dialogues make you blink, with their triteness.
Nandhu grits and gnashes his teeth in some scenes, looks lost and frustrated in others, and takes decisions which, considering he's a clever, conniving villain, seem incredibly stupid. He's supposed to be traumatised after his parents' death, but never grieves for them. He simply keeps talking about Gayathri. As a grown-up, he blackmails her into eloping with him but it never occurs to him (supposedly in love) to marry her.
In addition to the general silliness, all the other characters threaten to drive us mad. Sathyan makes lewd jokes, there's a murder story which should have been interesting but gets convoluted. Gayathri and Arvind look teary-eyed and angry all the time.
Navya Nair and Arvind Akash try valiantly to act (and succeed a bit), despite cliched dialogues, weird situations and commercial twists. Srikanth tries very hard, but looks constipated. Possibly the script is the culprit. In any case, there's no variation except for two stock expressions.
M V Panneerselvam's camera makes a great effort to bring some zip to proceedings, but there's not much substance to work with. Suresh M Koti's editing falls prey to the same problem. Vijay Antony probably doesn't even remember the numbers he composed for this one.
With pot-holes the size of craters, uninspired acting and dull music, Rasikkum Seemane flat-lines after the first half-hour.
Rediff Rating: